Eric Pickles tells 'tatty' shopping parades how to succeed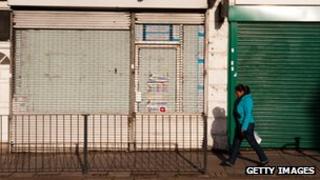 Communities Secretary Eric Pickles has issued a set of guidelines to help "tatty" shopping parades in England compete with the High Street.
He urges small neighbourhood shops to "kick out the louts", set up "savvy" services and "restore local pride".
Labour branded his "shopping list for success" - which comes with no new money - "patronising" but it was welcomed by a leading trade body.
Retail guru Mary Portas has drawn up a £10m plan to revive the High Street.
But the Department for Communities and Local Government says it wants to reassure local convenience stores which employ 10 people or fewer that they have not been forgotten, describing them as "crucial" to the economy.
Local grocery shops, newsagents and cafes have been squeezed by the growth of out-of-town shopping centres and online retail, although are still growing at a faster rate than High Street stores, according to research quoted by the DCLG in a report.
'No-go zones'
Mr Pickles said: "In the past too many neighbourhood shopping parades have been left to fade in memory and outlook.
"Convinced they can't compete with the mega stores and besieged by gangs of louts they have become tatty, no-go zones turning our beloved local convenience store into the local inconvenience.
"We've taken action to back local firms and small shops and today we are offering up ways to rescue run down shop parades by kicking out the louts, set up savvy services for shoppers and restoring the local pride in parades."
He said parades should be "thriving beacons of local business, home to the character of the neighbourhood community and the local shoppers' destination of choice".
The guide sets out government support available to local shops, such as the "Community right to bid", which is meant to make it easier for local people to take over "treasured" local assets faced with closure.
'Unhelpful'
But Shadow Communities and Local Government minister Roberta Blackman-Woods, for Labour, said: "This is further gesture politics from the government to cover up their lack of an economic plan for the country and for High Streets.
"While shop owners are working hard to keep their businesses going, the government has done little to improve consumer confidence and get our economy moving again.
"Advice like 'Go the extra mile on service' is simply patronising and unhelpful."
But Mr Pickles' guidance was welcomed by the Association of Convenience Stores, which helped draw it up.
Chief Executive James Lowman said: "The government is giving long overdue credit to local shops and helping them by giving practical advice on how to work together and thrive."
He said Mr Pickles' department had made "great strides in its new National planning Policy Framework that will make it harder for big out-of-town stores to open up and destroy the diversity of local parades."