Profile: Former Labour prime minister Gordon Brown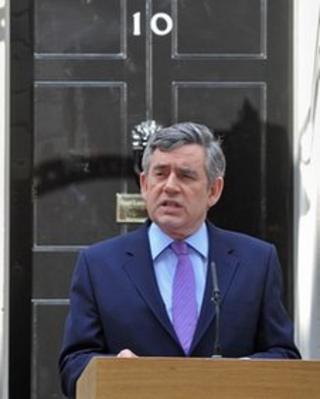 Gordon Brown has kept a low profile since leaving Downing Street after the general election in 2010.
His contributions in the House of Commons have largely been restricted to local matters relating to his Kirkcaldy and Cowdenbeath constituency.
Away from Westminster, he may have entered the lucrative lecture circuit - earning more than £1.4 million - but none of those speeches have really rippled the news waters back in the UK.
The one issue that has prompted him to put his head above the parapet in the last two years has been News International - and now he will be thrust into the spotlight once again as he appears before the Leveson Inquiry to discuss that very topic.
Rugby accident
As part of a - troubled - double act with Tony Blair, Gordon Brown dominated British politics for well over a decade.
One of the architects of New Labour, he held the powerful position of Chancellor of the Exchequer before stepping into the role of prime minister when Mr Blair decided in 2007 that he'd had enough.
Mr Brown's segue into that top job may have been inevitable - he took over from Mr Blair without a contest - but his route to high office began unconventionally.
The second son of Rev Dr John Ebenezer Brown, a Church of Scotland minister, James Gordon Brown was brought up in Kirkcaldy, a small coastal town north of Edinburgh.
At 16, he enrolled at Edinburgh University to study history, becoming the youngest undergraduate since the war - but during his otherwise successful time there, he lost the sight in one eye in a rugby accident.
After working briefly as a lecturer and TV reporter, Mr Brown was elected as a Labour MP at his second attempt in 1983.
He rose quickly through the party ranks and when Labour leader John Smith died unexpectedly in 1994, most assumed that Mr Brown, by then shadow chancellor, would be his successor.
But after Peter Mandelson, to that point his most enthusiastic supporter, said Mr Blair was the best bet to take Labour back to power, Mr Brown agreed to give Mr Blair a clear run at the leadership, on the understanding that one day the baton would be handed over to him.
In the end, he had to wait much longer than he'd anticipated for that chance - more than 10 years - and when it came it was far from plain sailing.
Mr Brown sought to differentiate himself from the era of "spin", stressing his "moral compass" and principled politics, but that wasn't enough to maintain the brief poll bounce he experienced after taking office.
Every decision he made was soon overshadowed by the financial crisis, bank bailout and the UK's descent into recession.
And as if a resurgent Conservative Party under David Cameron wasn't enough, Mr Brown also faced ministerial resignations and attempts to oust him from within the Labour ranks.
His relationship with the media was also always strained and his perceived lack of presentational skills and physical ease - so different from his predecessor - were constantly remarked upon.
When he entered the 2010 general election campaign he did so as rank outsider, and eventually lost more than 90 Labour MPs in what was Labour's worst electoral performance since Michael Foot in 1983.
Charity campaigns
Despite that result, Gordon Brown remains a very popular figure in his constituency and is clearly in demand on the international lecture circuit - earning up to £75,000 for a single speech.
But while those earnings are big money to most of us, compared with his erstwhile ally Tony Blair, they are small beer.
They are also all channelled into the Office of Gordon and Sarah Brown, set up to fund charitable campaigns on issues such as improving education and cutting maternal death rates in the developing world.
Mr Brown's speeches in the Commons have been far from frequent in recent times - just two during 2011 - and most of his parliamentary questions have focused on defence matters or a radioactive waste controversy in his constituency.
By far his most high-profile intervention in the House came at the height of the phone-hacking scandal in July 2011 when he launched a ferocious attack on News International, accusing it of "law-breaking on an industrial scale".
The former prime minister told MPs the publisher had been part of a "criminal-media nexus" and many innocent people had suffered from stories written by its newspapers.
Mr Brown was drawn into the affair after allegations emerged that he had been the victim of blagging by the Sunday Times, a News International paper, which sought to obtain his private financial and property details.
Allegations have also swirled about the way in which Times stablemate the Sun obtained the news in 2006 that the Browns' son Fraser had been diagnosed with cystic fibrosis.
Former editor Rebekah Brooks used her appearance at Leveson to vehemently deny any wrongdoing over the story - but her claim that she had the Browns' permission to publish it was denied.
Instead, the Browns insisted they would never have volunteered that sort of information and only when presented with a fait accompli - and realised the story would be published regardless - did they co-operate in any way.
At the Leveson Inquiry, Mr Brown will also be asked more widely about his relations with News International boss Rupert Murdoch.
Never as close to him as his predecessor Mr Blair, Mr Murdoch told Lord Justice Leveson that any cordial contact broke down after the Sun switched allegiance to the Conservatives in 2009.
Mr Murdoch said Mr Brown called him in an "unbalanced" state of mind after the defection and declared war on his media empire.
The former prime minister later issued a statement denying he had ever made such a threat - and when he appears in person this week he'll no doubt have to make that denial all over again.