Syria conflict: Ashdown criticises 'unwise' Western diplomacy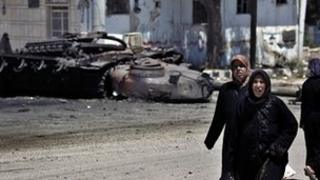 Lord Ashdown has criticised the UK's approach to the conflict in Syria, saying ministerial calls for regime change echo "the days of Iraq".
The ex Lib-Dem leader said Western powers did not have the power to dislodge President Assad and calls for him to go alienated China and Russia.
Instead, the UK should "learn lessons" from Libya and focus on regional support and humanitarian assistance.
Foreign Secretary William Hague said "all options" were being considered.
Since Parliament last sat, there have been renewed calls for action in Syria amid international condemnation of the massacre at Houla in which more than 100 civilians - including more than 30 children - were killed and reports of other mass killings.
In a statement to MPs, Mr Hague said the regime was responsible for "grotesque crimes" and its actions were "inflaming sectarian tensions". He also said there was evidence of terrorist groups affiliated to Al-Qaeda operating in Syria that could cause wider instability.
Following more than a year of fighting in which more than 10,000 people have died, the UK, US and France are among countries to have said the government of President Bashar-al-Assad has lost legitimacy.
They have called for a transition to a more inclusive and representative system of government, with President Assad ultimately standing down.
'Lessons of Libya'
The UK has said "time is running out" for the Assad government to implement the terms of Kofi Annan's plan - which calls for both the Syrian authorities and opposition groups to stop all violence, free political detainees and allow humanitarian aid into the worst-affected areas.
But efforts to rally support behind further action against Syria, including possible sanctions, has run into opposition from Russia and China.
Lord Ashdown told BBC Radio Four's World at One that the West's approach had been "unwise", likening it to the diplomacy pursued in the run-up to the 2003 Iraq conflict.
"This has not been clever diplomacy. In Syria, we have charged out front, all the West, dressed in shining armour, as though the days of Iraq were still there, and demanded regime change," he said.
"Much better to have followed the lessons of Libya, in this case, to have a coalition led by the region, particularly by the Turks and concentrated, at the beginning, on humanitarian assistance rather than regime change."
Without the support of Russia and China - and of the whole United Nations Security Council - there was little that the international community could do, he said, to influence events on the ground and certainly no prospect of any military intervention.
Humanitarian corridor
While it might be too late to establish a "humanitarian corridor" to give safe passage to those fleeing the fighting, he said it was an idea worth considering and he said neighbouring Turkey - which has backed the idea - needed to be more actively engaged in the wider response.
"The truth is now, to be able to do these things, you now have to play canny diplomacy which does not mean going out front and charging at the head of a mob.
"Everyone knows in the end that Assad must go but we knew that about Gaddafi too but we were wise enough not to say so and we achieved it by other means.
"I just think, in our thinking, about how to handle these things we have gone backwards to the days of Iraq as though we had the power that the West had in those days which it does not."
'Divided'
Lord Ashdown, who was the UN's High Representative for Bosnia between 2002 and 2006, played down parallels between the atrocities there in the 1990s and what was happening in Syria now.
But he said he was concerned about the possibility of ethnic, tribal and religious conflict spilling over into other countries.
"I worry about a widening Sunni-Shia conflict...which could engulf the whole of the Middle East and could have global consequences."
Mr Hague told MPs "the time has long passed for the Assad regime to stop the killing and torturing of its own people" and the UK would work with its allies to increase pressure on the regime and further isolate it.
If the Annan plan was not adhered to, Mr Hague said the international community would consider UN action mandating "sweeping sanctions" against Syria and added: "We will not rule out any option which can stop the bloodshed."
For Labour, shadow foreign secretary Douglas Alexander said the international community was "dangerously divided" over how to respond to the escalating violence and called for action to tighten the screw on Damascus, including a comprehensive oil embargo.