William Hague: UK is unswerving supporter of Pakistan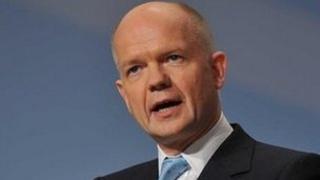 Foreign secretary William Hague has said the UK remains an "unswerving supporter" of Pakistan's development, during a visit to the country.
He said the UK's friendship with Pakistan would "endure" and he would urge "greater understanding" of the "challenges your country faces".
His trip comes amid ongoing tensions between Pakistan and the US over supply routes to neighbouring Afghanistan.
Mr Hague rejected the idea his trip was to mediate between the two countries.
He is meeting President Asif Ali Zardari, Prime Minister Yousuf Raza Gilani and opposition leaders, ahead of elections in the country.
The foreign secretary will also talk to women's rights activists.
In a joint press conference with Pakistani Foreign Minister Hina Rabbani Khar, Mr Hague said: "The United Kingdom can confidently and proudly call itself a friend of Pakistan.
"It is sometimes said, of course, that Pakistan is misunderstood in many parts of the world. As a friend of Pakistan I want to urge a greater understanding of Pakistan and the challenges your country faces, including the fact that Pakistan has suffered more than any other country from terrorism."
There is anger in Washington over the failure to eliminate militant safe havens in Pakistan, and the continuing ban on Nato convoys bound for Afghanistan.
Drone strikes
Islamabad shut a supply route in November after a Nato air-strike near the Afghan-Pakistani border killed 24 Pakistani soldiers.
On Monday the US said it was temporarily pulling out of talks with Pakistan over re-opening the route.
Pakistani politicians have raised concerns about US drone strikes on terrorist targets in the country. Last week the foreign ministry summoned the US deputy ambassador in Islamabad to protest at recent attacks.
The United Nations human rights chief Navi Pillay has said drone strikes "do raise serious questions about compliance with international law, in particular the principle of distinction and proportionality".
However, Washington insists it will continue to defend itself against enemies, including al-Qaeda.
Mr Hague was asked about reports that during the trip he was trying to broker a deal between Pakistan and the US.
He replied: "It's important that the United States and Pakistan are able to work together, but I have not come here today to try and adjudicate on those things or mediate on those things. As a firm ally of the United States and a deep friend of Pakistan, we hope the United States and Pakistan will be able to work successfully together in the future."
The foreign secretary's visit follows a trip to London in May by Mr Gilani.