Councils being rushed over policy consultation, says watchdog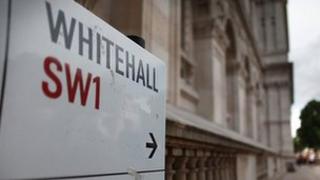 Councils are not being given enough time to respond to consultations on policy changes and their views should be better reflected, a report claims.
The government's spending watchdog said 65% of public consultations asked for town halls to respond in under 60 days - breaching Whitehall rules on timing.
A "disproportionate" number were launched close to Christmas and Easter - making responses harder to gather.
But councils said some progress had been made in links with government.
Publishing an assessment of government communications with local authorities, the National Audit Office concluded that most were of "good quality" but that "poor signposting" of information and "pages of unnecessary text" were wasting officials' time.
'Cultural differences'
In one month alone, government departments sent 744,115 emails to local authorities - at a time town halls were having to get by with fewer staff following budget cuts.
The watchdog said communications needed to take account of the "cultural differences" and ways of operating between Whitehall and councils.
"Communication and engagement between central and local government are inherently challenging, especially given the differences in priorities, ways of doing business and pressures," said NAO head Amyas Morse.
Under a Whitehall code of practice, government departments are supposed to give councils and other public bodies at least 60 working days to respond to any policy consultation.
But in 65% of cases between 2010 and 2012, this had not been adhered to. This could result in "a high risk of waste" and the possible failure of projects, the watchdog said.
"Consultation needs to be done in a way that shows that central government 'means it', with enough time for the results to be meaningful, and for local government views to be reflected in the projects which go forward," Mr Morse added.
The report did contain some praise from councils for the work of central government, with the Department for Communities and Local Government applauded for appointing 70 "locality leads" - senior officials responsible for liaising with councils.