Electricians job scheme looking to expand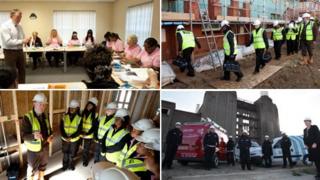 A scheme training women in social housing to be electricians is looking to expand. But its advocates believe changes in attitude from the government and employers are needed to help initiatives like it to thrive.
A year ago, mother-of-three Nicole Briscoe was job hunting with little optimism. Now she is on her way to becoming a skilled tradeswoman and is planning to set up her own business.
Nicole is one of 11 women taking part in Wired for Success, a training scheme run by the Electrical Contractors' Association (ECA). All of them are tenants of housing association L&Q which teamed up with the ECA to get the initiative off the ground.
It's the brainchild of Diane Johnson, the first female ECA president, who is adamant it can - and should - expand, both geographically and to other trades.
"It is a no-brainer," she says. "These people are on benefits - and the minute they're qualified they can come off them."
Round-the-clock
Flexibility is key to Wired for Success.
Nicole's youngest daughter was just five when she signed up, and it was the seemingly impossible task of fitting fulfilling, financially viable work around her child that had until then kept her out of the job market.
This programme, however, allows her to begin work later in the day - after taking her daughter to school - and finish work in time to pick her up.
John Blaus, from Electrical Assessment Services, is actually at the plug-face, so to speak, training the women - and in his words, he's never worked with "a more dynamically committed group of people".
But he stresses just how much support has to be provided to make the scheme work - support given round the clock by one of his colleagues, Jan Emery.
"At 10.30 last night she was dealing with a problem with a lady who just had not got sufficient finance to get to the workplace today," he says.
"Without her I think we would have lost two or three ladies by now due to natural issues and problems they come across."
There's no doubt that such a level of flexibility and support presents a challenge for traditional - often male-dominated - industries, as well as colleges and similar institutions.
They would almost certainly need help themselves to overcome such challenges.
Benefits issues
Another issue Nicole and her fellow trainees have encountered is with the benefits system.
Wired for Success is not recognised by the Job Centre as a training programme, so they are still under pressure to be looking for work in order to qualify for JobSeekers Allowance.
As Diane Johnson puts its: "These girls are actually in training and yet we cannot seem to prove to the benefits agency that they are not sitting at home doing nothing.
"We actually need help on that and any scheme like this would need help."
Even very simple things can present difficulties - Nicole's National Insurance number requires her to sign on at the Job Centre on a Tuesday but that's one of her training days.
"Those little issues may seem small, but they are issues in terms of just being able to get on with your work," she says.
"All that said, I'm on this course and I'm loving it. The empowerment I feel knowing where I'm going to be at the end is amazing."
Labour MP Catherine McKinnell, who is a friend of the scheme, says problems like these, while not inevitable, are "constantly recurring", but she hopes the forthcoming switch to Universal Credit will provide an opportunity to make the benefits system fit better alongside different forms of training.
The government has also launched an independent review of its apprenticeship programmes, so the hope is that this sort of feedback can be fed into that.
'Non-productive outcomes'
There is only ever a going to be a limited pot of funding for schemes like Wired for Success, and while it is expensive, those involved believe it's a considerable improvement on much of what is going on now - and would be better for the taxpayer in the long term.
"What I don't understand is that the government is happy to provide money to put people on courses, then when they finish the course they don't go anywhere," Diane Johnson says.
"They stay on benefits, there is no job at the end.
"If there was some support for this initiative then basically we can guarantee that these people would never go back on benefits again because they can go out and earn a living."
Iain MacDonald, head of education and training at the ECA, goes further.
"As an industry we often see substantial amounts of funding being directed towards non-productive outcomes. I would like to see public money being directed towards what you would term an industry-recognised outcome.
"There is far too much money that is being deployed to the commercial benefit of training providers and not the commercial benefits of the industries the qualifications purport to serve."
Everyone involved in Wired for Success agree that while it might sound counter-intuitive, schemes to tackle unemployment can't just be expected to conjure up jobs.
Instead, the focus has to be on providing people with skills, so if vacancies come up, they're ready - or alternatively, they can set up their own businesses from scratch.