Nick Clegg faces battle of attrition over Lords reform, warns senior Tory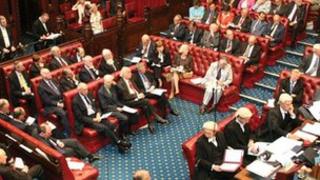 A senior Conservative MP has warned Deputy Prime Minister Nick Clegg that he faces a "war of attrition" over his plans to reform the House of Lords.
Bernard Jenkin told the BBC that he and other backbenchers were angry that Mr Clegg's Lib Dems had not backed Culture Secretary Jeremy Hunt in a Commons vote over his future, held last week.
It was wrong for coalition partners to "do their own thing", he added.
Mr Clegg wants to make the Lords a mostly elected chamber of Parliament.
The government proposes cutting the number of peers to 300, from more than 800, with the first elections to take place in 2015.
But many Conservatives oppose Mr Clegg, arguing that constitutional change should not be a priority at a time of economic crisis and that altering the Lords could undermine the primacy of the Commons.
There is also unrest over the decision of the Lib Dems to abstain following last week's Labour-led debate on whether Mr Hunt should be investigated for alleged breaches of ministerial standards.
'Extraordinary'
This followed the Leveson Inquiry into media standards publishing emails and texts suggesting the culture secretary had had a close relationship with Rupert Murdoch's News Corp during its attempted takeover of BSkyB - on which it was his official responsibility to adjudicate.
Mr Jenkin, who chairs the Commons Public Administration Committee, told BBC Radio 4's World at One: "It is an extraordinary thing that what amounted to a vote of confidence in a minister of the government should have been abandoned by the Liberal Democrats and, I think, a lot of my colleagues feel that very strongly
"I think it shows that, bluntly, the Liberal Democrats will do their own thing when it suits them."
Mr Jenkin said the "real test" of the coalition government's authority would come when MPs voted on the "timetable motion" enabling ministers to limit the time spent debating Lords reform.
If this fails, it could lead to a protracted debate which could undermine the legislation.
Mr Jenkin said: "If they don't get their timetable, it means we are into a long, long, drawn-out war of attrition in the House of Commons as the government tries to force this bill through."
But Lib Dem deputy leader Simon Hughes insisted the argument over the vote on Mr Hunt would not "spill over" into Lords reform debate.
He said: "Lords reform is coming forward because it is part of the coalition agreement. Coalition deals are things that were are all signed up to. The coalition deal stands as a totality."
He defended the decision to abstain in the Commons vote on Mr Hunt, saying Prime Minister David Cameron had not gained Mr Clegg's support for his decision not to refer him to the independent adviser on ministerial interests, Sir Alex Allan.
Mr Hughes said: "That was a matter that the Tory prime minister took. He was perfectly entitled to do it. Nick Clegg had sought to persuade a different route. That hadn't been agreed, so we weren't able to support that particular decision."