Vince Cable: More housing needed to boost growth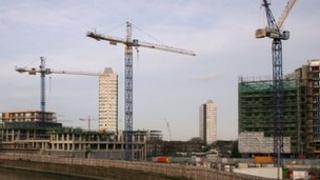 The Business Secretary Vince Cable has been looking at the lessons of the 1930s for the British economy. He says housebuilding must expand, interest rates should be kept low and the government should help increase access to cheap credit.
Speaking in the City of London on Monday, Mr Cable attacked the "lending conservatism of the banks" and said - just like in the 1930s - an expansion in housebuilding could help promote economic growth.
The business secretary pointed out that the government was maintaining loose monetary policy through low interest rates and quantitative easing but said the government was facing "more challenging conditions than the inter-war coalition" in the 1930s.
He warned that any prolonged appreciation of the currency would inhibit recovery.
He pointed out that Britain got out of the "slump" of 1931 in part by building more homes - with private housebuilding increasing from 130,000 homes in 1931 to more than 300,000 three years later.
He said these days there was an "unmet demand" for social housing and the government could do more to help housing associations get access to cheap credit by using government guarantees.
Construction products accounted for 20% of manufacturing output, Mr Cable said.
"Recovery requires a big expansion in social and private housebuilding", he said - and he decried the difficulty in giving aspiring homeowners access to mortgages. In the 1930s there were 1,000 building societies - their "destruction" was "a great act of economic vandalism".
He emphasised that in order to maintain a strong balance sheet, the government needed to stick with its fiscal plans to get the deficit down - but said the plans were "far more flexible" than opponents claimed, with the period of deficit reduction extended from four to six years.