Coalition tensions over local pay for public sector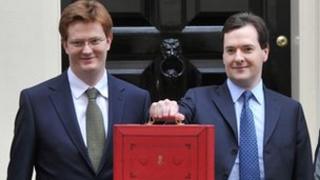 Ministers will need "strong evidence" before pressing ahead with local pay deals for public sector workers, the prime minister's spokeswoman has said.
She said: "Unless there is strong evidence and a good case for it, things won't change."
Meanwhile, behind the scenes, a senior Liberal Democrat source said the party had never been keen on the idea.
The Lib Dems are afraid it would play into claims made by the Coalition's opponents.
The policy is, the source says, "parked" while evidence is collected - and that evidence would need to be "hugely strong" for it to be turned into a reality.
So is the chancellor about to perform another U-turn?
No, says the Treasury.
It points out the chancellor has never committed to introducing local pay deals.
In his Autumn Statement in November last year he said pay review bodies would be asked to "consider how" public sector pay could be made more responsive to local labour markets.
'Willy nilly'
At the Budget he said the government was looking at "whether" this was possible.
Liberal Democrats are publicly cautious.
The Lib Dem Chief Secretary to the Treasury Danny Alexander told the GMB union's conference earlier this month that there would be no change without strong evidence, and a rational case, for proceeding.
He added: "It is not about ending national pay bargaining. It is not about cutting anyone's pay. And it is not about making further savings."
The Deputy Prime Minister Nick Clegg said last month: "I feel very, very strongly as an MP from South Yorkshire where you've got a lot of people in the public services, that we're not going to do anything which simply willy-nilly exacerbates a North South divide."
One of only two Conservative MPs in the North East of England, Guy Opperman, has also made the case against local pay deals.
So is the government offering nothing more than public musing and reassurances? Not quite.
For a start, chancellors tend not to include in Autumn Statement and Budget speeches ideas on which they are entirely neutral.
George Osborne's own letter to the Pay Review Body says the Treasury is setting out, in his words, "the economic case for making public sector pay more responsive to local labour markets".
The Treasury's submission says the fact public sector workers get paid around 8% more than private sector staff for similar jobs suggests the government pays more than it needs to recruit, retain and motivate staff in some parts of the country.
'More responsive'
It adds: "The evidence suggests that the quality of public services would directly benefit if public sector pay became more responsive to local labour markets."
According to a submission from his department, the Education Secretary Michael Gove wants "to give schools as much freedom as possible to spend their money as they see fit to meet their pupils' needs".
It describes the current pay system for teachers as "rigid, complex and difficult to navigate".
A Department of Health submission says its view is that there is a "prima facie case" for more "market facing" pay for some staff.
It does not think current pay arrangements reflect the different challenges in hiring and keeping staff in different parts of the country.
So there may be no final decision on local pay deals yet, but there are plenty of plainly stated opinions.
When the prime minister and his deputy come to discuss the matter they will have to consider both the enthusiasm for change among some Conservative cabinet ministers, and the deep reservations of Liberal Democrats.
Like many of their conversations, it is unlikely to be without its complications.
Both parties will know that should they drop a policy discussed so prominently in the past, the chancellor will face headlines about u-turns whether or not the Treasury thinks them fair.