Michael Gove signals academy school food quality switch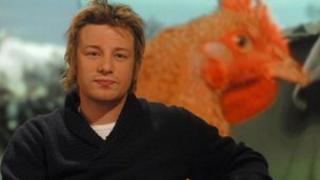 Michael Gove has signalled plans to shift policy on food quality in academy schools following a fresh campaign led by celebrity chef Jamie Oliver.
Mr Oliver has said he was "totally mystified" that academies could determine what food to offer, while others had to follow strict rules.
The education secretary was asked about the situation in the Commons on Monday.
"We'll be making an announcement shortly - not a U-turn - building upon the platform Jamie Oliver has created."
"There is no evidence that academies are performing worse at lunchtime than other maintained schools," he told MPs.
"Governing bodies will decide what food and drink is available at academies and free schools; we trust them to make the right choices for their pupils."
His comments came in response to a question from shadow education minister Sharon Hodgson, who had said the government's policy on food in academies was "disgraceful".
"Health and education experts are calling for a U-turn. Ninety-eight members of this House - including a number from the government benches - are calling for a U-turn. Even Jamie Oliver is calling for a U-turn," she said.
"How many more calls for a U-turn and reams of evidence does the government need to hear before it does the right thing, puts evidence ahead of dogma, and makes sure that all children get the benefit of healthy school food?"
Mr Gove replied: "I applaud her passion on this, as I do that of Jamie Oliver."
Mr Oliver's criticism came in an interview with the Observer earlier this year.
He said: "The health of millions of children could be affected by this one man [Mr Gove]. When there is a national obesity crisis unfolding around us, I honestly think he is playing with fire."
A campaign by the chef during the last Labour government's time in office led to new legal standards on school meals in England.
Academies are semi-independent schools, so they do not have to abide by regulations introduced in 2008 which set out strict nutritional guidelines for school food.
Mr Gove wrote to Mr Oliver about the chef's concerns on school meals at academies last August.
He wrote: "We have no reason to believe that academies will not provide healthy, balanced meals that meet the current nutritional standards."