Vince Cable: State's share of UK economy is rising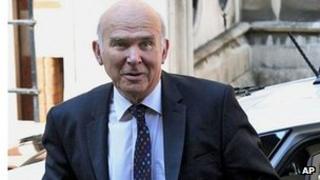 Government spending is increasing as a share of the UK economy, rather than decreasing as planned, Business Secretary Vince Cable has said.
This was the "opposite direction" to the intended one and was the result of "not getting growth" while "there is a modest increase in public spending".
He had been asked to respond to some people's belief that tax and spending cuts were needed to boost growth.
Coalition policy was driven by economic need, not ideology, Mr Cable said.
"People in the government have different views about the size of the state sector - it is driven by a budget imperative and we have to stick with it," he said.
"Certainly, my approach and the view, I think, of the government as a whole is nothing remotely to do with ideology," he went on.
"Actually the share of government in the economy is increasing, not intentionally, but because we are not getting growth but there is a modest increase in public spending.
"The intention, which is very clear, is that we have to reduce the deficit because we can't continue to ask markets to provide capital to the government to fund the deficit unless we can clearly demonstrate that we are trying to do something about it making it viable.
"It is actually a remarkable achievement if you look at it - two or three years ago we racked up the biggest deficit in the developed world, not just the developed world and the government had to do it because the crisis was so severe - it wasn't a sustainable position and we've now got the dirty job of trying to work that down."
'Sensible time-frame'
Mr Cable's comments came during a question and answer session after a speech - comparing current fiscal and monetary policy with that of the 1930s - at the Centre Forum think-tank in London.
During his speech , which promoted an increase in housebuilding, Mr Cable said coalition policy "is far more flexible than our opponents claim - we have shown this by extending the period from 4 to six years for bringing the budget to structural balance".
"But no-one within the coalition doubts the need to get the deficit under control over a sensible time frame."
UK public spending as a share of the economy tends to rise during recessions, as the size of the economy contracts. It fell as low as 36.3% in 1999/2000, rising to 47.7% a decade later.
It had been projected to fall to below 40% again by 2016/17.