Cameron will not watch England Euro 2012 game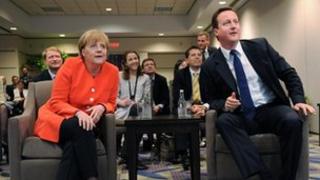 David Cameron is likely to miss England's Euro 2012 clash with Ukraine later, Downing Street has said.
The PM will be in a working session on green growth, infrastructure and food security at the G20 summit in Mexico when the game takes place.
A spokeswoman said his team "will try and keep him posted" on the score.
Ministers could rethink their boycott of Euro 2012 matches in Ukraine if England progress to the quarter finals after Tuesday's match, she said.
However Downing Street was later forced to say the PM believed England "would do very well" after Foreign Office minister Jeremy Browne said "history suggests" the team would not reach the final.
Anger over the treatment of jailed opposition leader Yulia Tymoshenko has led several European nations to say they will stay away unless the situation under President Viktor Yanukovych improves.
Labour MP Frank Roy said it showed "total inconsistency" for the UK to be concerned enough about abuses to stay away from some parts of the competition but not others.
Mr Browne, who was appearing before the Commons Foreign Affairs Committee, said: "I only observe that the only time that England have ever reached an international tournament final was when it was held in England. So these difficulties did not arise."
"History suggests that we are dealing in hypotheticals here."
England require a draw against Ukraine in Donetsk's Donbass Arena to be sure of qualifying from the group stage of the tournament.