MPs back better regulation of park homes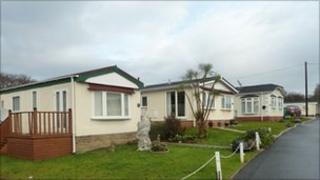 Legislation "more suited to the 1960s" is failing to protect residents of mobile home parks, MPs have said.
A report by a Commons select committee said many residents experienced problems with maintenance, security, written contracts and intimidation by site owners or managers.
It said the industry had been "infiltrated by a rogue element".
The government has said it will back reforms to the "outdated" system in an effort to end "abuses".
The Communities and Local Government Committee carried out an inquiry into park homes - relatively low-cost bungalow-style residential properties, usually sited on private estates - and found that many of the mainly elderly residents were being exploited by unscrupulous owners.
It said the homes were widely marketed to retired people looking to downsize and release equity tied up in larger homes.
'Malpractice'
Mobile homes in parks are legally classed as caravans, so most housing legislation does not apply to them.
The committee's chairman, Labour MP Clive Betts, said: "We received an exceptionally large body of evidence showing the park homes industry has been infiltrated by a rogue element... While we recognise that there are some good site operators, the vast majority of the evidence we received suggests that malpractice is widespread across the sector.
"Complaints from residents about unfair fees, poor maintenance and site owners making it difficult for residents to sell their homes are common."
The committee found that a quarter of park home residents had experienced problems with maintenance, security or safety standards and that at a significant number of sites in the UK residents had experienced intimidation by site owners or managers.
Problems identified in the report included "sale blocking", when a site owner prevents a resident from selling their home on the open market by withholding "approval" of the prospective buyer, in order to force a low-priced sale to themselves, before selling it on again for a profit.
The report said increasing harassment by site owners, an out-of-date licensing regime that fined site owners a maximum of £2,500, and confusion over contractual obligations between site owners and home owners were also causing problems for residents.
The committee recommended removing the right of site owners to approve buyers, modernising the licensing regime and removing the upper limit on fines for non-compliance.
Conservative MP Peter Aldous is expected to publish a private member's bill in Parliament with the aim of reforming the regulations which govern the industry.
Housing Minister Grant Shapps said: "Today's committee report demonstrates the troubles that park home residents all too often come up against - which is why I'm backing Peter Aldous's new bill in Parliament that aims to reform the outdated system.
"I have recently consulted on a number of reforms to better protect home owners' rights and stop abuses like sale blocking as well as reforms to site licensing to ensure that residents' health and safety are better protected. These issues will be tackled through this bill."