Nick Clegg promises to 'lead world' on measuring prosperity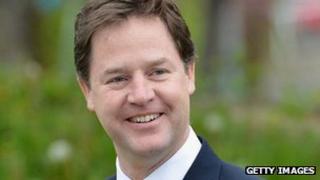 Nick Clegg has said he will "be leading the debate globally" on the way nations measure prosperity, as he attends at summit on protecting the environment.
The deputy prime minister, going to Rio, Brazil, said growth should not be looked at in a "narrowly economic way".
The UK government is promising to add measurements of natural resources to GDP figures by 2020.
The Rio gathering comes 20 years after the Earth Summit in the city agreed targets to prevent global warming.
Rio+20 is expected to result in an agreement to put the world's economies on a more sustainable footing, but environmental groups warn that its recommendations are too weak and will not do enough to tackle poverty.
More than 100 world leaders are to attend, including presidents and prime ministers from the large emerging economies, including China, India, Indonesia and South Africa.
'GDP-plus'
But US President Barack Obama, UK Prime Minister David Cameron and German Chancellor Angela Merkel, who are in Mexico at the G20 summit of leading economies, will not be there.
Mr Clegg told BBC Radio 4's Today programme: "I don't think you should measure our commitment simply by who's at a particular summit. At this summit I will be leading the debate globally on ways of measuring nations' prosperity, what I call GDP-plus, so that we don't just measure growth in a narrow economic sense, but also look at the natural resources available to economies.
"We are moving as a country to measuring our own prosperity in those terms from 2020 onwards and I will be working at the summit with the World Bank and others to encourage others to do it."
Mr Clegg added that the UK would be the "first country in the world anywhere" to force large businesses to report on their greenhouse gas emissions.
However, he admitted that he was "entirely realistic" that persuading 170 countries to move "in exactly the same direction is a painstaking business".
Environmental issues have caused some ructions within the coalition government between Mr Clegg's Liberal Democrats and the Conservatives.
The deputy prime minister, a supporter of wind farms on land and sea, said he was not "fetishistic" about the need for subsidies and that if it was possible for the private sector to run business profitably, "then all the better".
But the evidence suggested renewable energy needed support in its "early years", he added. Opponents say the technologies are expensive an ineffective.
The draft Rio+20 agreement "reaffirms" commitments nations have made previously, BBC environmental correspondent Richard Black said.
Activists mounted a Twitter campaign on Monday to persuade governments to commit to ending fossil fuel subsidies.
However the final text reiterates previous commitments to phase them out if they are "harmful and inefficient".