David Cameron won't answer Chris Bryant until he apologises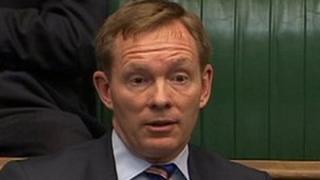 The prime minister has refused to answer questions from a Labour MP until he apologises for accusing him of misleading parliament.
During a statement on the G20 summit, Labour's Chris Bryant asked Mr Cameron about corruption in Russia.
But Mr Cameron refused to answer this, or any future questions from the MP, until he receives an apology.
In April, Mr Bryant questioned whether the PM had misled parliament over the number of times had met Rupert Murdoch.
The Labour MP, who has been heavily involved in the campaign to expose phone hacking, made the accusation when evidence published by the Leveson inquiry showed meetings between Mr Murdoch and Mr Cameron which were not on a list published by the PM.
Responding to Mr Bryant's question about the death of Russian lawyer Sergei Magnitsky, the prime minister said: "The word I'm waiting for from him, because he introduced a point of order claiming that I had misled the House, is 'sorry'.
"He has said sorry to everybody else... I think he has said sorry to the House in general but the person he accused of doing something wrong he's not yet said sorry to.
"Until I get that apology, I think I'll leave off the answers."
Following the exchange, Mr Bryant tweeted: "So I raise economic growth and corruption in Russia and the PM replies with childish refusal to answer."
The Labour MP is next due to question the prime minister on Wednesday at Prime Minister's Questions.
Mr Bryant, Labour's shadow immigration minister, caused controversy in a separate debate when he accused Culture Secretary Jeremy Hunt of lying to parliament over his contacts with News Corp.