Tom Winsor: Police experience not essential for watchdog role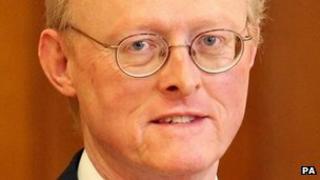 Tom Winsor, the government's choice to be Chief Inspector of Constabulary for England and Wales, has defended his lack of police experience.
Mr Winsor said it was "not essential" for the role to be filled by a police officer and told MPs he would be "fearlessly independent" in the post.
The government has faced criticism from the Police Federation over its choice.
But ministers accused the federation of conducting an "unacceptably personal" campaign against Mr Winsor.
The former rail regulator was giving evidence to the Home Affairs Select Committee as part of the pre-appointment process.
'Material disadvantage'
Mr Winsor, the author of a controversial review on police pay, would be the first person who has not served as a police officer to take up the role since Her Majesty's Inspectorate of Constabulary (HMIC) was first established in 1856. He would replace Sir Denis O'Connor, who retires at the end of next month.
He said that while he had no operational experience as a police officer, he had spent a lot of time with officers in the field as part of his review and received detailed submissions on all aspects of policing.
He said: "I do not regard it as a material disadvantage not to have been a serving police officer.
"No one can be an expert in a field as wide as policing. Not all chief police officers have been detectives; not all chief police officers have been public order specialists. They take advice from other people."
Mr Winsor was the only candidate on the final shortlist who did not having a policing background.
Earlier, Policing Minister Nick Herbert defended the government's decision to choose Mr Winsor.
'Fires of hell'
Mr Herbert said he was aware that Mr Winsor's selection would be controversial but he said it was not made deliberately as a "reproach" to the Police Federation.
The minister said the government was not appointing the country's most senior police officer, but the head of the inspectorate whose job it was to "reveal what's happening and lift up the lid to make sure we know what's going on".
What was needed, he argued, was someone who was "fearlessly independent".
Mr Winsor said that, as rail regulator, he had protected his independence "through the fires of hell".
"I'm quite staggered that people should suggest that I'm not likely to be independent," he told the MPs.
"If the Home Secretary decided that appointing me would lead to the production of a meek and complacent regulator then she's going to be disappointed."
In his report into police pay and conditions last year, Mr Winsor called for the abolition of a series of allowances and special payments and for a pay system that recognised hard work and merit instead of long service.
He also recommended that officers on front-line duties should see their pay rise, and wanted a professional accreditation allowance of £1,200 to be introduced for most detectives, firearms, public order and neighbourhood policing teams.