Cabinet supports Nick Clegg's Lords reforms, says Downing Street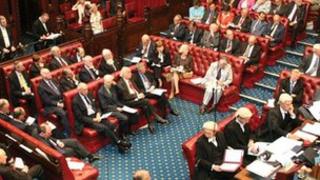 A parliamentary bill to introduce a mainly elected House of Lords will be published on Wednesday after receiving "strong support" from the cabinet, Downing Street has said.
The plans, which would mean 80% of peers being chosen by voters, are controversial within the coalition, with many Conservatives opposed.
But the government said it would force MPs to comply if necessary.
Labour has agreed to back the bill, despite opposition from some MPs.
The party's support could be important to getting the changes through, with reports that up to 100 Conservative MPs could rebel.
'Grave concerns'
Many Tory backbenchers think the changes would undermine the Commons and feel that constitutional reform should not be a priority during the recession.
Deputy Prime Minister Nick Clegg, who is also Liberal Democrat leader, is the driving force behind Lords reform, which will also see the number of peers reduced to 450 from 800 currently.
This number has been raised from a previous target of 300, after a committee of MPs suggested this might make Parliament's second chamber too small to do its job of scrutinising legislation properly.
Mr Clegg outlined his plans at Tuesday's cabinet meeting, with 16 ministers speaking in favour, Prime Minister David Cameron's spokesman said.
They included the leader of the House of Lords, Lord Strathclyde, Justice Secretary Kenneth Clarke and Communities Secretary Eric Pickles.
The spokesman added: "We will be setting out reforms for a mainly elected House of Lords that is significantly smaller than the House of Lords at present, where the first elections should be held in May 2015 and where the primacy of the House of Commons will be maintained.
"There was very strong support for the reforms around the cabinet table."
'Revolt'
After being tabled on Wednesday, the bill is expected to receive a second reading in the House of Commons before it rises for the summer recess on 17 July and ministers aim to complete its passage on to the statute book by May next year.
But Conservative MP Penny Mordaunt told BBC Radio 4's World at One that even colleagues who had never voted against the government were "considering doing it on this issue".
She added: "There are many people on the government payroll [ministers and their parliamentary private secretaries] who have grave concerns about this."
But the prime minister's spokesman said Conservative MPs would not be released from the requirements of party discipline and allowed to vote with their consciences.
"It is a government bill," he said. "It will be whipped appropriately and if necessary we will use the Parliament Act [which sets out the superiority of the Commons over the Lords if there is a stand-off]."
Labour leader Ed Miliband is said to be facing a revolt from some of his most senior MPs over his support for Lords reform.
Sources say he endured a "difficult meeting" with his MPs when he announced he wanted the party to back the government's bill.
A number of senior Labour MPs, including former Home Secretary David Blunkett, openly criticised the decision.
Mr Blunkett apparently told the meeting he would defy the Labour whip for the first time in 25 years.
It is understood Mr Miliband plans to force Labour MPs to support the measure, although the leadership will join Tory rebels in opposing the programme bill setting out the "timetable" for debate.
If successful, this would allow opponents to drag the debate out, swallowing up time needed for other business and potentially allowing it to be "talked out".