Tough times in local government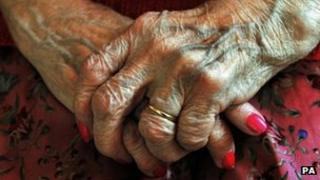 They have been calling it "the graph of doom", which pretty much sums up the atmosphere at the Local Government Association conference this year.
It lays bare the prediction that the rising costs of social care could overwhelm all other council services by 2020.
Councillors are determined that this bleak vision of a future without libraries, leisure centres or properly maintained parks does not come to pass. But how?
Twelve months ago, the mood at the annual gathering of council leaders and local authority executives was very different.
Yes, they knew that times were hard. But there was a sense that they were rising to the challenge, and keen to prove they could find cheaper ways of operating on a tight budget.
"It's an exciting time to be in local government," was a catch phrase often heard last year. Not so now.
The hope that local authorities could grit their teeth for four or five lean years before resuming normal service has gone.
Robert Chote, the chairman of the independent Office for Budget Responsibility, told the LGA hall the "pain would go on" until at least 2017.
To many that seemed optimistic.
Demographic pressures
Local government finds itself squeezed in two ways. Most obviously, by the "cuts" - councils say they have had to absorb a disproportionate share of the implementation of the government's austerity plan.
But authorities are also on the wrong side of long-term, demographic pressures that have nothing to do with tackling the deficit - because people are living longer, the total cost of looking after older people is increasing relentlessly.
Many of those with severe disability or chronic health problems are also living longer because of medical advances - which is good news. But it comes with a big price tag for councils.
The cost of caring for one individual with complex needs can easily surpass £100,000 a year.
Population growth is also putting pressure on children's services in many areas.
Councils are making these points as strongly as they can in order to exert pressure on the government in two ways.
Firstly on social care - local authorities fear that multi-party talks on reforming the system of social funding have stalled. They are worried the can will be kicked down the road again, and they will be left without the resources to salvage a system already said to be in crisis.
Secondly on spending - councils expect a full government spending review next year. They feel they were treated harshly last time, and want what they see as a fairer settlement next time.
The danger from their perspective is that they may be seen to have dealt with the first round of cuts too well, and ministers will see the sky has not fallen down. The government could then come to the conclusion there is still plenty of wasteful spending by councils, and press ahead with an equally tough settlement in 2013.
Merging services
Ministers, though, want fundamentally to change the culture of councils totting up their needs, and sending a begging letter to central government to pay the bills.
They argue town halls are already being given new freedoms to keep a large share of the business rates they collect. Other policies like the New Homes Bonus are also designed to give authorities the financial incentive to resolve local problems.
Under the scheme, aimed at easing housing shortages, the government matches the council tax raised on each newly built house for six years.
Many in government also believe councils are still wasting huge sums of money. Ministers say authorities are failing to collect £2.3bn pounds of council tax a year and sitting on reserves totalling more than £14bn.
They also think much more can be done to cut costs by merging services with neighbouring authorities and making better use of assets.
Some here in Birmingham think the low-hanging fruit has already been grabbed, and that finding the next round of savings will require a much more radical approach.
In a speech to the conference, Philippa Roe, the leader of Westminster City Council, described the savings that have been achieved by a far-reaching collaboration with two other London boroughs.
She argued councils could go much further by "pooling budgets" and sharing resources with Whitehall departments and other councils.
The long-term vision is a public sector that focuses its effort on the families that need the most help, and are the biggest drain on the taxpayer. The old system of vast bureaucracies operating in silos and never talking to each other, or sharing resources, is being challenged.
As the funding squeeze goes on, full-blown mergers between councils cannot be ruled out. We can expect ever more radical plans to emerge to make a shrinking pot of money cover rising demand for services.
In the shake-up to come, there will be many searching questions about what councils are for, and exactly what residents can expect them to provide.