MPs demand 'minister for older people'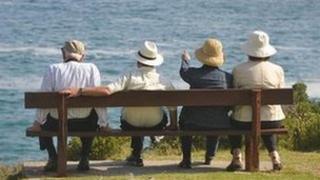 MPs have unanimously urged the government to consider creating a "minister for older people".
The decision was reached after a cross-party group of backbenchers, who say elderly members of society are often overlooked by politicians, launched a Commons debate on the subject.
Under the last Labour government, broadcaster Dame Joan Bakewell served as an older people's "tsar".
But MPs said this responsibility should be handed to a cabinet minister.
Opening the debate, Conservative MP Penny Mordaunt argued that this would ensure that the cabinet would take into consideration the impact on older people of every policy decision.
"Too often policy is made with the fit, the able bodied, the internet savvy and the average user in mind," the MP for Portsmouth North said.
Risks
"Older people can be at the margins of these groups and are peculiarly exposed to the dangers of unintended consequences."
Labour MP Julie Hilling said: "We too often see older people as problems, not as members of society with the same hopes and fears as everyone else. "We badly need somebody round the cabinet table championing their issues."
Ministers did not oppose the backbenchers' motion, which "calls on the government to consider appointing a member of the cabinet to be the minister for older people", and the Commons agreed it without a vote.
But Pensions Minister Steve Webb warned that the change "might create risks as well as opportunities".
He explained: "Other departments might decide that they are no longer responsible for thinking about older people."
Conservative MP Margot James, one of those who had pushed for the Commons debate, said the brief would be wide-ranging.
Cut-off
She told the BBC before the debate: "Older people do tend to be more interested in the NHS, in pensions, in social care but by no means are their interests confined to that.
"The average age of MPs is just over 50 and the average age in the cabinet is around the same.
"We talk a lot about having more women in Parliament, more people from ethnic minorities in Parliament and so forth, but we don't do enough or talk enough about getting more older people into Parliament."
Ahead of the debate, Ms Hilling admitted it was difficult to define the exact age group the minister would represent.
She said: "My mum had a stroke last year but until then, aged 86, was still teaching three classes of yoga a week, still doing reflexology and is fighting her way back to health.
"Of course you get some people that are old when they're 50, so I think we're looking around those people who are entering retirement but there isn't a cut-off."
She also said it would be wrong to require the minister for older people to be above a particular age.
"I don't think it matters who it goes to as long as that person is keyed in and keen on the brief... Whether they're young or old, that doesn't matter."
The debate follows a campaign by the organisation Grey Pride, which has been urging its supporters to lobby their MP on the issue.