Plaid AM plea for 'sensible' attitude towards monarchy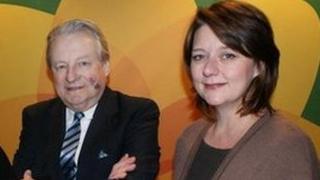 Plaid Cymru AM Lord Elis-Thomas has called on members of Wales' nationalist movement to show the same political maturity as Sinn Fein politicians.
His comments follow the handshake between the Queen and Martin McGuinness.
Fellow Plaid AM Bethan Jenkins has described Mr McGuinness as "naive" for agreeing to meet the Queen.
And party leader Leanne Wood declined to attend a Diamond Jubilee cathedral service earlier this year.
'Sensible'
Speaking on BBC Wales' CF99 programme, former assembly presiding officer Lord Elis-Thomas said: "I'm not going to mention anyone specifically, but I think it's about time that we all grow up in our politics, and I think it's time for Welsh republicans to be at least as polite and sensible politically as Sinn Fein republicans.
"It's a very strange situation when Sinn Fein's policy on the unity of Ireland, and how that may happen, and their policy on the monarchy appears more reasonable than the attitude of some people in the nationalist movement in Wales."
Ms Jenkins made her comment about Northern Ireland deputy first minister Mr McGuinness on Twitter.
She has since removed the post and said she was giving up the social networking site after Labour users of it pounced on her remark.
In April Ms Wood, who beat Lord Elis-Thomas in the Plaid leadership election, refused an invitation to attend a service in Cardiff to mark the start of the Queen's Diamond Jubilee tour of Wales.
Lord Elis-Thomas attended the service in Llandaff Cathedral with fellow former Plaid leaders Ieuan Wyn Jones and Lord Wigley.
Mr McGuinness, a former IRA commander, shook hands with the Queen in a private meeting and in public on Wednesday.
Sinn Fein said Mr McGuinness told the Queen that their meeting in Belfast was a "powerful signal that peace-building requires leadership".