MPs' switchboard staff upset over move to Southampton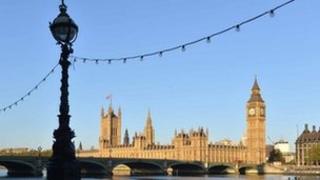 Plans to move Parliament's switchboard to Southampton are damaging staff morale, Labour MP Kate Hoey has said.
The MP for Vauxhall said some of her constituents had worked loyally on the switchboard for more than 20 years and were being asked to move next May.
In response, Commons Leader Sir George Young praised the operators for providing "a high quality service, often in challenging circumstances".
He pledged to raise their plight with the officials responsible for the move.
During exchanges on forthcoming business in the Commons, Ms Hoey called on Sir George to initiate a debate on the subject.
"Can we really not look at how we actually treat our own staff?" she asked Sir George.
The House of Commons Commission, which shares oversight of the administration of Parliament, decided to outsource the switchboard operation to Capita to save costs, the Commons leader explained.
"The honourable lady is right to draw the attention of the House to the debt we owe to all those staff," he told MPs.
"It is not primarily a matter for the government but it is a matter for the commission and I will raise the honourable lady's concern with the commission and see if there is a role for us to play in minimising the dislocation of her constituents to which she has just referred," he said.