Cameron 'secures single market commitment'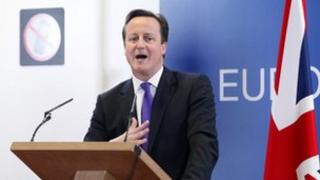 David Cameron says he has secured from eurozone leaders "explicit commitments" to protect the EU single market.
It comes amid fears Britain's financial services sector will lose out after the 17 eurozone leaders agreed a bailout deal for their debt-laden banks.
As a non-eurozone leader, the UK PM was not present when the deal was struck in the early hours of Friday.
But he said nothing the eurozone does to stabilise its currency should impact on the single market.
And that it must remain a matter for all 27 EU states.
'Impact'
EU leaders have agreed to use the eurozone's planned bailout fund to directly support struggling banks, without adding to government debt.
After 13 hours of talks, they also agreed to set up a joint banking supervisory body for the eurozone.
There is concern among bankers that this will have a negative impact on Britain's financial services sector, which accounts for about 10% of the country's economy.
Conservative MP Mark Field, who represents the City of London, said: "Clearly this is going to have an impact on the City's international competitiveness."
And he suggested that Mr Cameron - like former British prime ministers at EU summits - found himself on the sidelines when the key decisions were made.
"The fact that we are not part of the eurozone has meant that our influence on these matters has been minimal for a decade or more," he told BBC Radio 4's The World at One.
But Former Labour MEP Richard Corbett, who is now adviser to the President of the European Council, Herman Van Rompuy, said all member states would "bend over backwards" to prevent tension between the eurozone and non-eurozone countries.
At a press conference at the conclusion of the summit in Brussels, Mr Cameron welcomed the deal.
"There is more to do, but they have made some important steps forward," he said.
'Tough'
He went on: "In the longer term, the eurozone - like any single currency - needs closer economic and fiscal integration to secure its future: the remorseless logic that I have spoken about.
"These are difficult decisions but I believe all the countries now recognise how much more needs to be done."
Mr Cameron said he had objected to the inclusion of references to economic and monetary union (EMU) in a growth compact discussed at the summit.
He said: "While Britain wants this done, it has to be achieved in a way that doesn't distort the single market.
"For us that's the cornerstone of the EU and the biggest benefit we get out of membership. Three million British jobs depend on that market being open and working for us.
"In the conclusion today, I secured explicit commitment that, as this work deepening EMU goes ahead, the integrity of the single market will be fully respected.
"It was tough securing this, but absolutely vital, so that as this work proceeds it goes ahead in a way that protects our interests."