Minimum child maintenance payments to double to £10 a week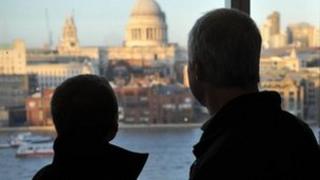 Absent parents on benefits will see the amount they are expected to pay in child maintenance double from £5 to £10, the government has announced.
Work and pensions minister Maria Miller said it was time to "reflect the costs of bringing up a child" and "reduce the gap" in funding obtained from working and non-working parents.
The flat rate of £10 will apply for people on benefits and those earning less than £100 a week.
The change will come in next year.
The government also said it would create a single scheme for setting and collecting child maintenance, replacing two differently formulated schemes set up in 1993 and 2003.
The payments are only for those parents who have not come to their own agreement and have taken their case to the child maintenance scheme replacing the Child Support Agency.
In a written parliamentary statement, Mrs Miller said the system was "failing".
She added: "I am announcing today that we will increase the flat rate to £10 when we open the new scheme to all new applicants, in order better to reflect the costs of bringing up a child and reduce the gap between child maintenance paid by employed and unemployed non-resident parents."
The new scheme will also see maintenance payments no longer required in cases where parents share care of their children equally.
Mrs Miller added: "Parents' responsibility continues post-separation, particularly when it comes to financial support.
"We are determined to support, encourage and - if necessary - enforce parental financial responsibility."
She said the new scheme would be "faster and simpler than the two Child Support Agency schemes now in operation".
"And most importantly it will be fairer for both mums and dads," she added.
Other changes will see a small decrease in the percentage reduction in payments by absent parents who may have other children living with them.