Tyrie warns of 'partisan' probe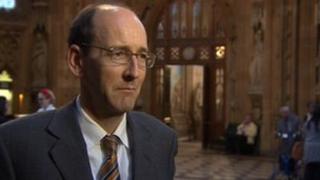 The MP set to head a parliamentary inquiry into banking has said he will not lead it if it is "partisan".
Andrew Tyrie, who also chairs the Treasury Select Committee, said he would not head the inquiry if it does not have the support of all MPs.
Labour has said it will oppose the creation of the inquiry at every possibility.
It wants a public, judge-led probe into the culture and practices of banking.
The announcement by Prime Minister David Cameron of an inquiry follows the Barclays rate-rigging row.
The bank is to conduct its own "root and branch review" after receiving a fine of £290m ($450m) over the Libor affair.
Speaking on BBC Radio 4's World Tonight, Mr Tyrie said: "I'm certainly not going to want to run an inquiry that is in any sense partisan or perceived to be partisan. And I wouldn't be prepared to participate if that were the case.
"Indeed, if I don't have the support of the whole House of Commons I wouldn't be prepared to do it."
Labour has said it will seek to amend the Financial Services Bill in the House of Lords on Tuesday to set up a public inquiry into banking.
Both the Commons and the Lords are expected to be asked to approve the establishment of the parliamentary inquiry, proposed by the prime minister.
'Soured already'
The former chair of the Treasury Select Committee, Labour's Lord McFall, told the BBC programme: "If you are going to set up a joint committee of parliament, first of all you've got to consult people. So it amazes me the opposition weren't consulted" about the parliamentary inquiry.
"You cannot get a unanimous report out when you have a slanging match on the floor of the House of Commons before you start it."
He added: "I think it has been soured already. I think that is a sad, sad thing because we are dealing with a hugely important issue here, not just of national significance but international significance given the position the City of London has in the global financial markets."