No further action from police over Denis MacShane expenses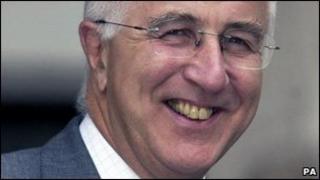 The Metropolitan Police have decided to take no further action against Denis MacShane MP over his expenses.
A complaint about the former Labour minister's expenses claims was referred to the Met in 2010.
That led to parliament's investigation being suspended pending the police inquiry and Mr MacShane was suspended from the parliamentary Labour Party.
Mr MacShane, who has been MP for Rotherham since 1994, has now had the Labour whip restored.
The MP was referred to Scotland Yard by the parliamentary authorities in September 2010 after concerns were raised over thousands of pounds of spending on laptops.
He also faced questions over bills for a constituency office which was in the garage of his South Yorkshire home.
Suspension lifted
At the time Mr MacShane - who was minister for Europe under Tony Blair - said he regretted the development but would co-operate with police.
Police submitted an initial file to the Crown Prosecution Service last December and further inquiries were generated as a result.
But, in a statement on Wednesday, the Met said these inquiries "have now concluded following a decision that no further action will be taken".
"This decision has been taken after careful consideration of the CPS advice," it added.
A Labour Party spokesman said in view of the police's decision, they would "lift their administrative suspension with immediate effect".
Parliamentary Commissioner for Standards John Lyon will now resume investigating the complaint made to him against Mr MacShane in June 2009.