Tom Winsor appointed HM Chief Inspector of Constabulary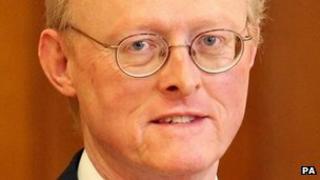 Former rail regulator Tom Winsor has been formally appointed Her Majesty's Chief Inspector of Constabulary for England and Wales.
The lawyer, 54, is the first person in the role who has not served as a police officer and his selection has been criticised by the Police Federation.
But Home Secretary Theresa May said he had shown a "clear understanding of the complex challenges facing policing".
Mr Winsor said the public interest would be his "primary focus".
"Appointment as HM Chief Inspector of Constabulary carries a great responsibility which I shall discharge with the support and assistance of the Inspectors of Constabulary and the excellent staff of HMIC, and the co-operation of the police service," he said.
"The public interest will be my primary focus. The greater the efficiency and effectiveness of police forces, the higher will be the protection of the public and their safety."
Mr Winsor was questioned last week by the Home Affairs Select Committee after being given preferred candidate status by Mrs May in early June.
He told MPs on the committee that it was "not essential" for the role to be filled by a police officer and he would be "fearlessly independent" in the post.
The MPs concluded they were "content" Mr Winsor should be given the job.
Since then, the appointment has been approved by the prime minister and the Queen.
In a statement, Mrs May said she was "delighted" to confirm his appointment.
"He has demonstrated a very clear understanding of the complex challenges facing policing and brings with him a wealth of experience from his role as rail regulator and from his review of police pay and conditions," she said.
Mr Winsor was the author of a controversial report into police pay and conditions in 2011.
In the report, he called for the abolition of a series of allowances and special payments and for a pay system that recognised hard work and merit instead of long service.
He also recommended that officers on front-line duties should see their pay rise, and wanted a professional accreditation allowance of £1,200 to be introduced for most detectives, firearms, public order and neighbourhood policing teams.