'Safeguard England's water', MPs urge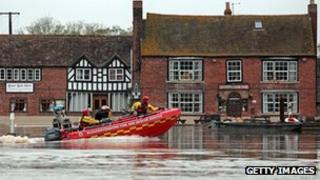 Ministers must take urgent action to safeguard England's water resources, a Commons select committee has said.
The environment, food and rural affairs committee called for targets on using more water meters and speedier reform of the way water is taken from rivers.
The warning comes as some parts of England have faced drought while record-breaking rainfall has caused flooding in many areas.
Labour accused the government of "dragging its feet" on reforms.
A report by the environment, food and rural affairs select committee examined government plans set out in a white paper on how to conserve water resources in the face of climate change and population growth.
The committee said it was "extremely disappointing" that targets had not been set to increase levels of household water meters - where people only pay for the water they use.
'High and dry'
MPs said the government should set a "clear and ambitious target" to expand meter use and pointed to a independent review which recommended 80% of households have them by 2020.
Committee chair Anne McIntosh said: "It's hard to see how the white paper's call for water to be managed as a precious resource can be reconciled with the lack of any clear target to increase metering levels."
The MPs said government plans to reform the way in which water is abstracted from rivers by the mid- to late 2020s would not happen fast enough as some rivers are already running dry.
Other measures recommended in the report include water companies reducing the amount of waste through leaks and doing more to get people to pay their bills.
The report highlights how the failure of some to pay for their water adds around £15 to each household's annual water bill.
In response to the report, water Minister Richard Benyon said: "I don't believe a one-size-fits-all solution is the best way forward and companies should work with their customers to find the solution that works best in their local area.
"Metering can cause some household bills to rise and I do not want to see anyone struggling to pay. Those companies that are introducing metering should protect vulnerable households."
Shadow water minister Gavin Shuker said: "We all know what must be done to secure our water supply and keep bills low: greater efficiency, competition for business customers, better infrastructure and changes to prevent the harmful abstraction of our rivers."
Friends of the Earth nature campaigner Paul de Zylva said: "Our precious wildlife is being left high and dry because too much water is being sucked out of England's rivers."
In the Queen's Speech the government announced it would publish a draft water bill which will allow every business and public sector body in England to switch their water and sewerage supplier.