Damian Green: Heathrow immigration close to 'acceptable'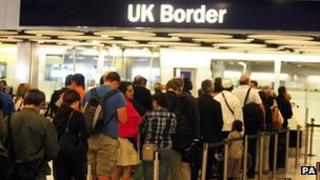 Waiting times for passport control at Heathrow are on target to be cut to an "acceptable" 45 minutes, immigration minister Damian Green has said.
The minister was appearing before the home affairs committee, after chairman Keith Vaz observed "appalling" queues.
Mr Green said he had visited Heathrow Terminal 4, on Tuesday morning, and had found "acceptable" waits of under an hour.
He said staff were on target to achieve waiting times of 45 minutes.
And the airport would be going into "full Olympics mode" from Sunday, with 500 extra staff and all passport control desks to be manned at peak times.
But the Immigration Services Union said the extra relief staff would not be trained to do the full range of border force duties, such as dealing with non-EU arrivals, and so would "not have a very significant impact on waiting times".
Union spokeswoman Lucy Moreton warned of a repeat of the public disorder seen in lengthy queues at the airport earlier this year when there was jeering of staff and slow hand clapping.
"It is usually started by one person, perhaps someone who has been drinking, but once it has started it is very difficult to stop. It is very distressing.
"There have been no incidences of the border being stormed but there is always that fear that that is going to happen."
'Olympics commitment'
She said that at some UK airports there were not enough booths or landing stamps for all the extra staff being drafted in and some would find themselves with nothing to do.
In his evidence to the committee, Mr Green said Heathrow had endured a "bad April" for queues but "the idea that there are endless long queues day after day would be misleading now".
"Once the Olympics start, every desk will be manned at peak times," he added.
He said about 80% of desks for non-EU passport checks were occupied when he visited Terminal 4 at 07:20 BST on Tuesday, and the wait was less than an hour although over the 45 minutes target.
"Forty five minutes is acceptable," he told MPs, adding: "It has got better through May and June, but it is still not perfect."
He refused to commit to keep all desks open at peak times after the Olympics: "The problem is not merely an Olympics problem, but it is a specific Olympics commitment."
He said new staff were being trained to meet demand when students began arriving from overseas in September.
"I am very conscious of what needs to happen after the Olympics. That is why we have brought forward retraining of extra staff," he said.
He also said he wanted to introduce separate lanes for passengers arriving from countries that require intensive pre-boarding checks, such as the US, Japan, New Zealand and Australia.
But he said he did not want to return to Labour's system of "queue-based" immigration controls, which saw checks relaxed for low risk passengers when lines became too long.
Mr Green also confirmed that Brian Moore, head of the UK Border Force, had decided not to apply to take the post permanently.
Database launch
Mr Moore, who is on secondment from Wiltshire Police, came under fire earlier this year after he told the home affairs committee he could not guarantee queues of less than four hours at Heathrow during the Olympic games.
Mr Green told the committee: "He has decided he will serve out his period as the interim head of border force, which was intended to run until September... but he has not applied for the full time post."
Asked why Mr Moore had changed his mind about applying for the job permanently, Mr Green said he would not "repeat private conversations with members of staff" to the committee.
Keith Vaz, chairman of the Home Affairs Select Committee, said he would write to Mr Moore to find out why he was not applying for the permanent post.
Mr Green also announced that a new database of alleged illegal immigrants would not be launched until September as "we didn't want to do it before the Olympics".
He said the Home Office wanted to "make sure" the National Allegations Database, which already contains 25,000 tip-offs from members of the public, "is going to work" before officers begin using it.
When Mr Vaz visited Terminal 4 at 07:00 BST on Monday, he said he found half the non-EU passport control desks "not opened".
The Labour MP, whose committee is carrying out an inquiry into the work of the UK Border Agency and Border Force, said on Monday: "I was appalled by the length of queues in the immigration hall this morning."