Social care: Progress dependent on spending priorities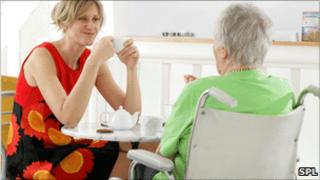 In the century of the ageing society everyone agrees that a crisis is looming in social care funding.
There's even a broad consensus on what could be done to solve it - a limit on the amount that people have to fork out for care and a more generous means test so a greater number get state help.
But the parallel economic crisis that is putting a severe squeeze on spending, has halted progress in its tracks.
According to Labour, the government has ducked one of the biggest issues of our time by failing to say how they'd pay for the changes.
In the Commons, Health Secretary Andrew Lansley, declared that a final decision on funding would be made at the next spending review expected in 2013 and The Treasury would consider the case alongside all the other demands for scarce government cash.
Cross-party talks
By its very nature, this issue has to have a long-term solution, so must be resolved on a cross-party basis. But the history of talks between the main parties doesn't augur well.
Before the last general election they broke up acrimoniously, after the Conservatives accused Gordon Brown of planning to impose a "death-tax." Labour had apparently been considering a means-tested tax, rising to £20,000 and levied at death.
Armed with the Dilnot report into the funding of care, the parties have tried again. But Labour have recently described the talks as "redundant" because ministers refuse to earmark the money to make them a reality.
A Labour source said there was supposed to be a joint document, but the government had gone ahead and published its own version with no input from the opposition. They suggested there had been no meetings since February and Labour were not prepared to give political cover for ministers' failure to fund the changes.
Shadow Health Secretary Andy Burnham says he'll only return to the talks if there's a commitment that the Treasury will be involved.
The government insists that despite the recent war of words there is the basis for further discussion.
Last year's Dilnot commission estimated that the cost of the reforms would be £2.2 billion in 2015/16. Some are already suggesting that benefits for wealthy pensioners, such as the winter fuel allowance, could be diverted to fund the changes.
Ministers have also raised the possibility of a higher cap - expecting people to pay up to £75,000 towards their care rather than £25,000 -would make the plans significantly cheaper for the taxpayer.
Mr Lansley has spoken about the intense financial pressure that public spending is under. In the end all the party leaders will have to decide where their priorities lie.