Arms sales to authoritarian regimes need review, say MPs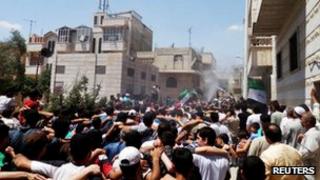 Arms sales to authoritarian regimes should be reviewed to ensure equipment was not used to repress citizens, MPs have urged.
They asked ministers to explain whether the 600 licences to Arab countries complied with UK government policy.
They also strongly rebuked ministers for classifying equipment such as sniper rifles and armoured fighting vehicles as "crowd control goods".
A Foreign Office minister said it was wrong to suggest controls were lax.
The criticisms were made by the Commons arms export control committees, made up of members of the business, defence, foreign affairs and international development committees.
The report said the revocation on human rights grounds of an unprecedented 158 licences since the start of the Arab Spring last year showed that ministers needed to be more cautious about issuing them.
"Whilst the promotion of arms exports and the upholding of human rights are both legitimate government policies, the government would do well to acknowledge that there is an inherent conflict between strongly promoting arms exports to authoritarian regimes whilst strongly criticising their lack of human rights at the same time," it said.
"Whilst the government's statement that 'respect for human rights and fundamental freedoms are mandatory considerations for all export licence applications' is welcome, those considerations do not appear to have weighed sufficiently heavily on either the present government or its predecessor."
The report expressed particular concern about the licences still valid for Arab countries, including 124 for Egypt and 97 for Bahrain as well as nine for Syria covering chemicals, cryptographic equipment, and £200,000-worth of "all-wheel drive vehicles with ballistic protection".
The report called on ministers to extend their review of arms export policy to the Middle East and North Africa - ordered in the wake of the Arab Spring - to cover authoritarian regimes and countries of human rights concern around the world.
It was also sharply critical of the way lethal equipment - including shotguns, small arms, semi-automatic pistols, assault rifles, sniper rifles, submachine guns, ammunition, armoured personnel carriers and armoured fighting vehicles - were classified as "crowd control goods" for licensing purposes.
"The committees recommend that the government discontinues the use of the phrase 'crowd control goods' in this context, which as well as being misleading is also profoundly disrespectful to the thousands of unarmed civilians in the Arab Spring countries who have courageously demonstrated for human rights and fundamental freedoms and have put their lives at risk in doing so," it said.
Foreign Office Minister Alistair Burt said the government assessed the licences according to its strict policy about taking into account concerns and risks.
"It is wrong to allege that in the run-up to the Arab Spring UK export controls were lax," he said.
"When the licences in question were issued, they were properly assessed in light of the prevailing circumstances. Once the circumstances changed, the risk was reassessed and licences were revoked.
"This is evidence of a system that is working, not failing. There is no evidence that equipment supplied by the UK was used to facilitate internal repression during the Arab Spring."
He added that the government's review of arms export policy was not confined to North Africa and the Middle East and covered "every kind of regime and every kind of country".
He said: "It would therefore be wrong to infer that we are failing to pay appropriate ministerial attention to exports to all countries of concern, whether in the Middle East or elsewhere."