Steel's Lords bill 'not alternative to government's'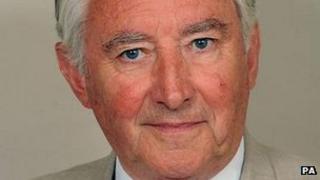 Former Liberal leader Lord Steel has insisted his parliamentary bill to cut the membership of the House of Lords is not an "alternative" to the government's reform programme.
His proposals, including forced retirement for those who fail to attend or are convicted of crimes, were passed by peers last week.
Meanwhile, the government is struggling to promote plans for elected peers.
But Lord Steel said his own bill was only a "small start" on reform.
Liberal Democrats within the coalition are pushing for Lords reform, including electing 80% of peers and almost halving the total number to 450.
But many Conservatives oppose the plans, with 93 MPs rebelling against the government in a vote last week - the largest such act of defiance since the government was formed in 2010.
Lord Steel has tabled a separate bill, which would allow the voluntary retirement of peers. It would also impose retirement on those who failed to attend enough sessions in the Lords or are convicted of crimes.
'Sensible'
On Friday peers passed a motion of commitment to discharge the bill - which means it has passed its committee stage. There will be no report stage and it will now move to third reading, after which it would go before MPs.
Similar proposals have already been debated and passed to the Commons in the previous session.
The developments have led some observers to suggest Lord Steel's proposals could represent a way for the government to alter the Lords while preserving the coalition.
But Lord Steel, who was Liberal leader from 1976 to 1988, told BBC Radio 4's World at One: "It's not an alternative to the government's proposals. It's a small start on sensible reforms that could take place now."
The government's plans would see peers elected for 15-year terms, with one third of seats to be filled every five years. This would begin in 2015.
Lord Steel said: "The government's proposals don't come into effect until 2025."
He added that removing peers who only attend infrequently would "take away 10% [of members] at a stroke".
The dispute over the government's Lords proposals has added to speculation about when the coalition will end in the run-up to the next general election, planned for 2015.
Lord Steel said there would "have to be a break" at some stage, adding that the Liberal-Labour pact of the late 1970s had ended about six months before the 1979 election, to allow the two parties to campaign separately.
He said: "I would imagine something of the same will happen again."