UK road deaths rise puts government under pressure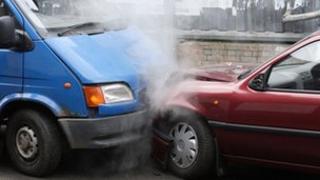 The government has been criticised for a lack of leadership after the first increase in road deaths for nearly a decade.
The report by the Transport Select Committee also highlights the fact that road accidents are the main killer among 16-to-24-year-olds.
The committee calls for more help to keep young drivers and cyclists safe and to improve the design of roads.
The government says road safety continues to be a top priority.
In 2010-11, 1,901 people were killed on Britain's roads. That is 51 more than the year before and the first rise since 2003.
The largest increase is among pedestrians, where the number of deaths rose by 12% to 453.
While deaths among cyclists and motorcyclists fell, the number of drivers and passengers who died rose 6% to 883 while more than 25,000 road users were either killed or seriously injured in total.
'Shocking'
The BBC's transport correspondent Richard Westcott says the coalition ditched national targets when it came to power and instead told councils to take more responsibility for road safety.
But the MPs found councils had a patchy record because of budget cuts and the loss of skilled staff.
They also call "shocking" the fact that road accidents were the biggest killer among young people, and call for better driver training to help them stay safe.
Road deaths might have gone up but - with the exception of last year - the number of people killed or seriously hurt on our roads still remains the lowest since national records began.
Last year's figure is still well below that seen in 2009, when 321 more people were killed on the roads.
The committee called on the Department of Transport to "name and shame local authorities that are under-performing on road safety".
Launching the report, the committee's chairman Louise Ellman MP said: "It is shocking that road accidents are the main cause of death among young adults aged 16-24 and that so many cyclists continue to be killed or injured.
"Action is required to improve road safety for young drivers, including an independent review of driver training."
Blip or trend
MPs want the government to reassess its road safety strategy later this year and are also recommending a review of road conditions for cyclists and motorcycle training.
They also want Parliament to be given a say before there is any increase in the speed limit on motorways to 80mph - a move that has been mooted by ministers.
Mrs Ellman said ministers needed to explain whether last year's rise in road deaths was a one-off "blip" or the start of a worrying trend.
"The evidence we gathered suggests the principal factor in improving road safety is robust political leadership," she added.
Councils said they took their responsibilities for promoting road safety "very seriously".
"If you look at the figures, over the last ten years we have seen a steady decrease (in road deaths)," said Peter Box, from the Local Government Association.
"We should not be complacent but these should be put into context. Of course we can do more but the report makes clear we do have real budget pressures."
More training
Road safety campaigners Brake said the increase in casualties was "unacceptable" and action was needed to curb drink driving among young motorists and do more to protect cyclists and pedestrians.
"It is vital the government wakes up to the very real and human consequences of inadequate action on road safety and moves quickly to address the biggest killers on our roads," said its deputy chief executive Julie Townsend.
The AA said a lot could be done to reduce casualty levels, including earlier focus on road safety in the national curriculum and ensuring all driving tests included sections on rural roads.
"Most people take their test in a town or city," said the motoring body's president Edmund King. "The government is trying to change that by opening up test centres in more diverse areas so that people get more experience of rural roads."
"That should become part of driver training so people know that it is not the same driving in a city as it is in a narrow rural road where speed limits may be 60mph."
Additional training for young drivers after they qualified may also be needed, he added - given evidence shows one in five new drivers have a crash in the first six months after passing their test.
"Many people haven't driven at night or in bad weather conditions and haven't driven with other people in the car. That is not part of the test. That becomes a problem when they get into their car with a licence for the first time."