Vince Cable: Murdoch 'war' claim improved my reputation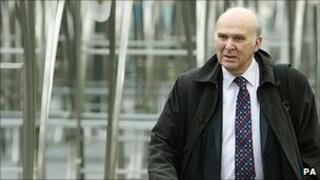 Vince Cable has said his reputation is "unchanged or better" since having his ministerial responsibilities reduced for declaring "war" on Rupert Murdoch.
The comments led to the business secretary being stripped of responsibility for Mr Murdoch's planned takeover of broadcaster BSkyB.
But he told the BBC his instincts had been "broadly right", when he made the remarks to undercover reporters.
Mr Cable added that he intended to stay "outspoken when I feel it's necessary".
The Liberal Democrat minister was initially given the job of judging whether News Corp should be allowed to take over BSkyB, but this responsibility was removed in December 2010.
This happened after he told journalists from the Daily Telegraph - who were attending a surgery in his Twickenham constituency, purporting to be residents - that Mr Murdoch's "whole empire was under attack".
'For the best'
Referring to the BSkyB bid, Mr Cable told them he had "declared war" on Mr Murdoch, adding: "I think we are going to win."
The job of judging the takeover application then went to Conservative Culture Secretary Jeremy Hunt, who has since been criticised for having too strong a link to News Corp.
The company dropped its bid for BSkyB following the revelations that its now-defunct newspaper The News of the World had hacked the phones of many celebrities and the murdered schoolgirl Milly Dowler.
Asked whether his reputation had been damaged by the comments on Mr Murdoch, Mr Cable told BBC Radio 4's PM: "Well it was at the time, but I think now it's either unchanged or better because I think that people felt on that issue my instincts were basically right.
"In a way it's turned out for the best. My empire, if you want to call it that, has expanded greatly over the last year in other areas.
"I'm now the, as somebody put it, the minister for space, time and the weather, having acquired the meteorological office and a variety of other bits and pieces of government.
"It's not that my department is smaller; it's quite a bit bigger. Not that you measure ministers' success by how big their department is."
Mr Cable admitted he had gone through a "bad patch" at the beginning of 2011.
Asked whether he was now more careful in his comments, said: "You have to be, yeah. I try to be outspoken when I feel it's necessary. I don't want to lose the tag of being somebody who speaks their mind. Once you've lost that you may as well not be there anymore.
"Little things you learn, that, you know, irony is a very very dangerous form of humour because some people don't get it and they think you're saying the opposite of what you are saying. I have a kind of built-in thermostat, stopping it boiling over."