Theresa May should relax border checks, says Keith Vaz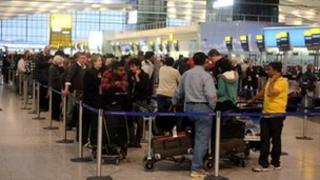 Home Secretary Theresa May should relax border checks to prevent queues at UK airports going back to pre-Olympics levels, a committee of MPs has said.
Border force chief Brodie Clark was forced out of his job in a row over easing identity checks at airports.
But Keith Vaz, chairman of the influential home affairs committee, said the scheme had kept queues down.
And it should be reinstated now the "panic" around Mr Clark had died down.
The former border force chief received a reported £250,000 payout in March after settling a constructive unfair dismissal claim against the Home Office, with neither side admitting fault.
He claimed he was being used as a political scapegoat after Mrs May said he had relaxed passport checks without her approval, something he denied.
'Risk-based approach'
When the revelations first emerged, Mr Vaz led calls for action - but he told BBC News he now believed the senior civil servant's departure was "totally unnecessary" and had happened because "everyone panicked".
"I think they (ministers) would all like to forget about this episode taking place. The taxpayer has ended up paying the bill for what happened with Brodie Clark. What we just need to make sure is that the lessons are going to be learned."
Mr Vaz's committee said trials of a "risk-based" approach to border control - which saw checks on EU school parties waived and border staff allowed to reduce scrutiny of EU passports deemed to be low-risk - were suspended in November 2011 in the wake of the Clark revelations, when it emerged staff had gone further than authorised by the pilot project.
"We think the home secretary's decision to suspend the risk-based approach was wrong and we felt that the pilot was successful," Mr Vaz told BBC News.
"I think we need to leave it to experienced officers to decide whether or not they need to check everybody 100%. The school party coming from Calais, for example, of under-13s, we don't believe they should be given the same kind of priority as someone who is profiled as being a cause for concern."
Heathrow and other airports have been allocated extra staff to cope with visitors arriving for the Olympics and planned industrial action by border staff has now been called off, easing fears of long queues.
'Unacceptable queues'
But Mr Vaz warned waits at passport control could quickly escalate to "totally unacceptable" levels of up to three hours once the Games were over - and foreign students began arriving for the autumn university term.
A border force spokesman said: "The action we have taken to cut queuing times and keep the border secure is already paying dividends and despite the surge in Olympic visitors, queues at Heathrow in the last week have been almost non-existent.
"We're also ready for the post-Olympic period - we've been recruiting more officers for several months and our new central control room at Heathrow means mobile teams are now being rapidly redeployed across the airport, wherever they are needed most.
"This summer the border force is conducting a pilot of measures to deal with children arriving in the UK as part of an accompanied and organised school group."
Heathrow has lost 450 border staff due to public sector cuts and the home affairs committee said it was "concerned that the calculations about the number of officers needed were not predicated on the current mandate to carry out 100% entry checks on all passengers".
The Labour Party backed the committee's call for a post-Olympics reappraisal of border force staffing levels.
'Lille loophole'
In its report, the home affairs committee also calls for the urgent reinstatement of "smart zones", which enable passengers on low-risk routes to be screened by immigration in advance of their arrival in the UK and which were also suspended in November.
It warns that failure to act could harm the UK's economy, with some carriers "resigning themselves to reducing their revenue because the border force does not have the capacity to provide them with an adequate service".
It also urges the border force to publish estimates of the amount of drugs being smuggled into the UK, saying it was "unhelpful for the head of the border force to promote his organisation's success in seizing illegal drugs if he is unable to contextualise the figures".
It also calls for an update from the border force on its efforts to close the "Lille loophole", created by the Schengen agreement allowing undocumented travel between member countries.
Passengers buying a Eurostar ticket from Brussels, in Belgium, to Lille, in France, do not have their passports checked - and if they stay on the train after Lille and avoid ticket inspection they may be able to enter the UK without the proper documentation.
Eurostar initially suspended ticket sales - but they had been restarted after protests from France and Belgium and the loophole was still thought to be a favourite method of entry to the UK for illegal migrants and people traffickers, the report said.