Could Big Ben lose out in Diamond Jubilee name change ?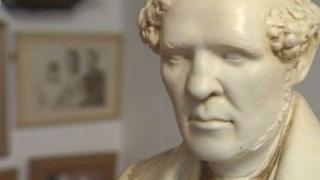 The whole world will be hearing the chimes of Big Ben during the London Olympics.
It instantly brings to mind the globe's most recognisable clock tower.
So there's bound to be some surprise if its name is changed.
But that's what MPs want to do and rename the clock tower in honour of the Queen.
Now the descendants of a celebrated champion boxer from Nottinghamshire, 'Big' Ben Caunt, have raised concerns.
Sporting celebrity
At the home of Derek and Eileen West, a bust of their celebrated ancestor takes pride of place.
In early Victorian England, 'Big' Ben Caunt was a champion boxer.
At 6' 2", he had presence and was a big sporting celebrity.
Ben Caunt was very much the David Beckham of his day.
The huge hour bell was reputably named after the boxer because of his popularity with MPs, especially after he became landlord of the Coach and Horses pub (now the Salisbury) in St Martin's Lane.
"MPs and Lords used to go and watch Ben box," said Derek.
"So when it came up in Parliament about what to call the big bell, someone said they should call it Big Ben."
One hundred and fifty years after his death, that most iconic of London landmarks is to be named Queen Elizabeth Tower to mark her Majesty's Diamond Jubilee.
But Ben Caunt's descendants want to preserve the family connection.
Derek's wife Eileen is Ben's great granddaughter.
"My worry is that in future years on occasions like New Year's Eve, it will no longer be called Big Ben but Queen Elizabeth Tower," she told me.
"Ben's name could be wiped out in time."
Tucked away in the graveyard of the parish church at Hucknall in Nottinghamshire lies 'Big' Ben himself.
It simply says Ben Caunt, Champion of England 1815-1861.
Nottinghamshire's pride
Derek and Eileen are both in their 80s and are keen to pass on the family history to future generations.
Nineteen-year-old student Natasha West, Ben's great-great-great-granddaughter, has visited his memorial.
"I think most people will always stick to calling the tower Big Ben because it's an integral part of British history," she said.
Nevertheless, the family have raised their concerns with their MP, Mark Spencer.
"Some people challenge whether the bell is actually named after Ben Caunt, the boxer," said the Sherwood Conservative.
"But I'm not convinced. Ben Caunt's connection is something to celebrate. We should be very proud of it.
"After all, it's our Nottinghamshire mark on Westminster."
One or two accounts claim Big Ben is named after a former parliamentary commissioner of works Benjamin Hall, who installed the bell.
But something tells you the case for 'Big' Ben Caunt still packs a punch.