Nigel Farage: UK election outcomes irrelevant, because of EU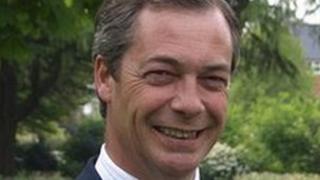 UK Independence Party leader Nigel Farage has claimed he "could not care less" who wins the next election as the UK is "governed from Brussels".
Mr Farage, whose party wants to leave the European Union, suggested UK voters could no longer change governments but merely had a "choice of managers".
He told the BBC the Conservatives were "virtually indistinguishable" from Labour and the Lib Dems on many issues.
Recent polls have suggested a rise in UKIP support amid the eurozone crisis.
Conservative MPs pressing for a referendum on EU membership say it is the best way of countering the threat from UKIP at the next election, scheduled for 2015.
'Not self-governing'
But asked whether he was concerned that a rise in UKIP's vote could deprive the Tories of seats and potentially see a less eurosceptic Labour government in power, Mr Farage said he "could not care less".
"We are not governed from Westminster, we are governed from Brussels. It does not make any difference," he told the BBC's Hardtalk programme.
"It no longer matter who sits in No 10. The penny is beginning to drop with the British people and British businesses that we are no longer a self-governing nation. That matters far more than which brand of social democracy gets into No 10."
None of the three largest parties was looking to fundamentally change the UK's relationship with Europe, he said, and the Conservatives had become "another brand of social democracy, virtually indistinguishable from Labour and the Lib Dems on many of the big issues".
"We are not voting to change governments in Britain. We are voting for a change of management."
More people were considering voting for UKIP at a general election than ever before, he suggested, and this current poll "surge" was different from previous spikes in support which were linked to European elections.
'Liberation'
The UKIP leader has frequently claimed he is talking to a number of Conservative MPs disillusioned with their policy on Europe about potentially joining his party.
He suggested that as many as 20 Conservative MPs shared common ground with UKIP on tax, energy and education and there was a "whole list of areas where they agree with us".
While not willing to disclose their identities, he added: "What we have seen round the country is councillors defecting, former Conservative association chairmen defecting. This is happening at an increasing rate."
David Cameron has said the UK's status within the EU cannot remain the same in the wake of the current crisis and a likely push to greater political and economic integration across the eurozone.
He has said there will be opportunities for the UK to take back certain powers and a reshaped UK-EU relationship could potentially be put to a public vote at some time in the future.
But he has said it was in the UK's best interests to remain in the EU and he did not back an "in-out" referendum on EU membership - a stance backed by Labour and the Lib Dems.
But Mr Farage said there was "no way" the eurozone could survive in its current form and the exit of countries such as Greece and Spain would be a "liberation not Armageddon".