London 2012: Olympic legacy hopes and doubts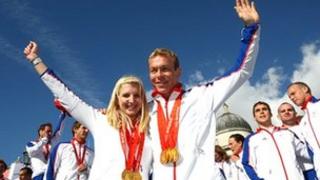 "Faster, Higher, Stronger". That's been the traditional motto of the Olympic movement.
But for London 2012, there have been other ambitions.
"Wealthier, Healthier, Happier" has been the aspiration of ministers and policy makers to encourage us all to embrace the Games.
If the Olympic legacy is to last, will it have a tangible impact outside of east London itself?
With wall-to-wall TV and radio coverage building up genuine enthusiasm for our athletes, I've taken a moment to find out what the Olympic legacy could be closer to home in a region like the East Midlands.
Concrete legacy?
You'll notice the legacy on a visit to a business near Alfreton in Derbyshire.
Evans Concrete Products was one of the many construction firms to benefit from work to build the Olympic Park.
Its concrete underpins many of the bridges and other structures.
Company chairman Garry McBride says the Olympics have been good for his business.
"But my concern is what happens in the months ahead after the Games are over," he said.
"The construction industry is struggling and there is no guaranteeing that business and manufacturing will be any better off."
The London Olympics have already generated orders worth £360 million for East Midland companies.
Striking gold
Speaking in Loughborough in June, the Prime Minister talked up the long term economic legacy.
That could be worth billions.
"That's what I'll be devoting my energy to and making sure we turn these Games into gold for Britain's business," Mr Cameron told his audience
So will there will be medal winning economic success?
"It will happen," said Councillor Roger Begy, leader of Rutland County Council.
He's been involved nationally to ensure there are long term spin-offs for the UK tourist industry.
"All the work that's been put in will bring serious dividends," he added.
"A county like Rutland has a strong tourist economy and we will see international visitors at the Olympics returning to see more of Britain.
"That's what happened after the Sydney Games."
'Couch potato' culture
So what about the legacy of a healthier and fitter population?
Thirty sports centres in the East Midlands have recently benefited from a special Olympic legacy fund totalling £1.4 million.
That's on top of £6.2 million already spent by Sport England in the region.
That investment, according to Sport England, is helping 116,000 more of us to take regular exercise.
But the chairman of the House of Commons Health Select Committee, Stephen Dorrell, worries the couch potato culture may become too difficult to resist for many.
"We must find ways of reinvigorating and refreshing the health message otherwise the Olympics will have a very short lived legacy," he told me.
There's a clue to what Olympic legacy looks like in Mansfield, the Nottinghamshire home of swimming's golden girl Rebecca Adlington.
The town's rundown pool was reinvigorated and revamped after Becky's Beijing triumph four years ago.
Her medal success in the London games looks set to inspire more local children to learn how to swim.
"Becky's success has had a huge impact on the town," said Tony Egginton, the Mayor of Mansfield.
"We managed to keep youth involved, get them engaged and out of the house to deal with some of the health issues we have."
Feel good factor
So will the Olympics deliver the third ambition and makes us feel happier? The Prime Minister believes so.
I went to Radcliffe-on-Trent in Nottinghamshire to check out some of the early evidence.
Fifteen thousand people turned out in the village to see the Olympic torch relay. It was smiles and cheers all the way.
Many told me it brought the community together. Nationally, an estimated eight million people went to see the torch relay.
Can that feel good factor become the surprise legacy of these Games?
"Yes it can," said Councillor Neil Clarke, the leader of Rushcliffe Council, a borough that includes Radcliffe.
"The memory of the Olympic torch relay and the Games will last for a long, long time especially for young people.
"They will think 'gosh that was brilliant'. It'll be a great inspiration."
Wealthier, healthier and happier?
Yes, maybe for now, especially as Team GB pick up more medals.
In the long term, securing the legacy of London 2012 may turn out to be more of a marathon than a sprint.