George Osborne to stay as chancellor, says David Cameron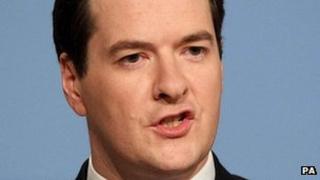 Prime Minister David Cameron has rejected the suggestion that his close ally George Osborne may be reshuffled from the job of chancellor.
Mr Osborne was "not going anywhere" and would be in the role at the next election, Mr Cameron told Sky News.
His comments follow reports of unhappiness amongst some Tories at Mr Osborne combining the roles of party election strategist with chancellor.
A Lib Dem peer last month also called for Vince Cable to be chancellor.
Business Secretary Vince Cable reacted to that call by saying he would make a "good chancellor", but added that he was not pushing for the job,
The questions about the chancellor all came in the wake of figures showing the UK was in its longest post-war recession.
Mr Cameron, asked during a visit to the Olympics whether Mr Osborne would be staying in his job, said: "George Osborne is doing an excellent job in very difficult circumstances and he has my full support in going on doing that job."
Asked if Mr Osborne would be chancellor at the next election, which is due in 2015, Mr Cameron said: "He's not going anywhere... yes."
The PM was then asked about the future of Culture Secretary Jeremy Hunt, who has also been under pressure after the News International takeover bid.
Mr Cameron said he was not going to take part in "reshuffle bingo" but said that the Olympics showed Mr Hunt and the Department for Culture, Media and Sport had "self-evidently done a very good job".