Southampton Council believes in appliance of science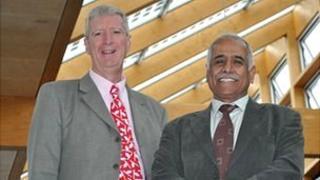 The government has had one for a long time. But no council has ever appointed a chief scientific adviser before.
Professor AbuBakr Bahaj of Southampton University is intending to blaze a trail for science and engineering in his link up with the local authority.
He believes that it is a crucial time for science to play a role in local life.
"Our aim will be focused on tackling future challenges encountered within cities, such as how a city could operate under a changing climate and resource depletion and the environmental, social and economic impacts of these changes."
Council leader Dr Richard Williams said: "Excellence in science and engineering is critical to Southampton's prosperity and well-being.
"His role will be crucial in the future development of the city."
Greener buildings
One of the first areas where Professor Bahaj will contribute to the council's policies is in green building development.
He is head of the Energy and Climate Change Research Division at the university and will provide the council with expertise on the energy efficiency of new buildings.
Decisions have to be made on whether to retain and 'greenwall' existing housing stock to improve thermal efficiency.
The idea has also been welcomed by the national chief scientific adviser, Professor Sir John Beddington.
He said: "The role of science and engineering in society and the economy is more important than ever.
"And Professor Bahaj will have a key role ensuring that policy makers in the local authority take decisions that make best use of scientific and engineering advances and evidence."