David Cameron on Boris Johnson: he's a 'Tory titan'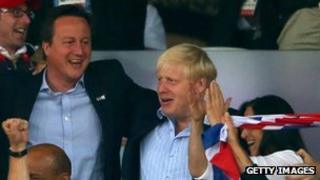 David Cameron has described Mayor of London Boris Johnson as a "titan" of the Conservative Party who has "a lot more to give the country".
Speaking on ITV's Daybreak, the prime minister said he wanted the mayor to be "as ambitious as possible".
Several Conservative MPs and donors have talked up the possibility of Mr Johnson being a future party leader.
Mr Johnson has said he is committed to seeing out his second term as mayor - which ends in 2016.
The mayor's already high profile has been boosted further by the success of London 2012.
Asked about whether he saw the mayor as a competitor, Mr Cameron said: "I want Boris to be as ambitious as possible. He's a fantastic London Mayor.
"I want to see people go from national politics into being city mayors. I want to see city mayors go into national politics.
'Great Mayor'
"I don't want to put a cap on people's ambitions.
"I welcome the fact that I've got, in Boris Johnson, a great Mayor of London, a great titan in my party and someone who I think has got a lot more to give the country."
Mr Cameron praised the role Mr Johnson - who recently got stuck on a zip wire above Olympic crowds - had played in delivering the Olympic Games.
Questions have been raised about whether Mr Johnson - who was MP for Henley on Thames from 2001 to 2008 - might stand for Parliament again.
But Mr Johnson has said his "cup was running over" as London Mayor and dismissed talk of him wanting to succeed David Cameron as a "silly season" story.
'Packed programme'
He told ITV earlier this week the chance of this happening was "infinitesimally remote" and he "certainly did not want to be prime minister at the moment".
The prime minister was also asked about whether the coalition was in good shape after Nick Clegg accused the Conservatives of "breaking the coalition contract" by not backing House of Lords reform.
Mr Cameron insisted the coalition would "go all the way" and said that although the Conservatives and Lib Dems were different parties which may not always agree they continued to "work well together".
The government would, he added, be "out of the starting blocks" with "a really packed programme" in the autumn.