Viva Westminster: MPs take lessons in Spanish, Mandarin and Hebrew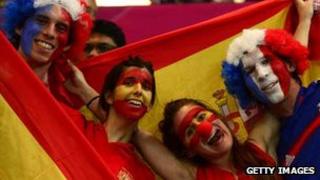 MPs received nearly £6,500 worth of taxpayer funded language training last year, new figures have revealed.
Since 2001, the House of Commons has provided funding for MPs to "learn a foreign language or develop existing skills".
In 2011-12, nine MPs - including Culture Secretary Jeremy Hunt - received the tuition, which is arranged by the Foreign Office.
The most popular languages taught this year were Spanish and Italian.
The figures were released by the House of Commons under Freedom of Information laws.
In the past six years, over 40 MPs from across the parties have received over £100,000 of language training, including in French, German, Polish, Urdu and Sylheti - a language primarily spoken in parts of Bangladesh and north east India.
'Hebrew lessons'
Use of the fund is expected to be "in accordance with their (MP's) parliamentary duties".
Mr Hunt, who is married to a Chinese woman, has been taking lessons in Mandarin since 2009 - the year they wed - at a cost of over £3,000.
Backbench Conservative MP Nick Boles, whose civil partner is understood to be Israeli, has taken up Hebrew at a cost of £676.80 this year.
In a statement issued by his office, Mr Boles said: "Language instruction is a service available to Members of Parliament. I took some Hebrew lessons."
Among Labour MPs brushing up on their language skills were Emma Reynolds and Tony Lloyd, who studied Spanish and Russian respectively.
But the language training doesn't seem to be so popular amongst Lib Dems. No Lib Dem MP has had any language lessons since the last election.
The full list of MPs learning languages in 2011-12:
Joe Benton (Spanish) £1,008
Nick Boles (Hebrew) £676.80
Jeremy Hunt (Mandarin) £702
Edward Leigh (Italian) £1,417.45
Tony Lloyd (Russian) £342
Emma Reynolds (Spanish) £651
Linda Riordan (Spanish) £630
Dame Joan Ruddock (Italian) £924
Joan Walley (Spanish) £129