England riots: Plans to ease rules on shop shutters abandoned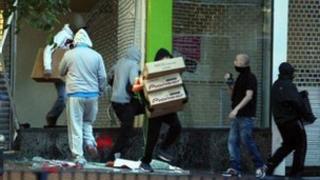 The government has abandoned plans to ease planning restrictions on security shutters for shops.
A consultation by the Department for Communities and Local Government was prompted by last year's riots.
But the consultation, which took the form of letters to local planning chiefs, concluded that it would be a "disproportionate over-reaction".
Looting and vandalism broke out in north London in August 2011 before spreading across several cities.
Relaxing the rules on shutters was one idea mentioned by the prime minister when Parliament was recalled in response to the riots last summer.
David Cameron told MPs he realised it was "difficult" for shops to put up protective shutters and vowed to "weed out unnecessary planning regulations".
The government consultation asked if shops should be able to install security shutters without approval from local authorities.
'Under siege'
But announcing the result of the consultation, a government spokesman said: "Police and councils advised that relaxing these rules could have the opposite effect and increase crime and anti-social behaviour by giving High Streets the appearance of being under siege."
The decision led the Association of Convenience Stores to question the government's commitment to cutting red tape for businesses.
"This would require councils to be creative, talk to local retailers and respond to their needs. That is not something they're renowned for," ACS spokesman Shane Brennan told The Grocer.
Siva Kandiah, a shop-owner whose property was destroyed by rioters in east London, told the magazine: "They should leave it up to us to decide what we need to keep our shops safe."
The Department for Local Government has offered funding to affected areas through the High Street Fund and, in London, through the Mayor's Regeneration Fund.