Top civil servant Dame Helen Ghosh to leave the Home Office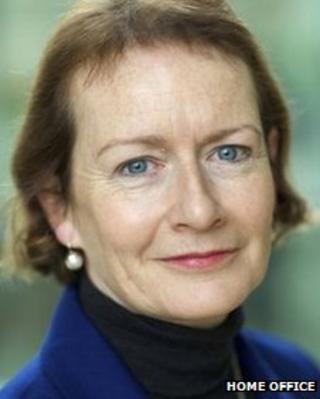 The most senior official at the Home Office is resigning after a 33-year civil service career.
Dame Helen Ghosh - who has led the department since January 2011 - will take up the role of director general of the National Trust.
She said she was "torn about leaving" but the chance to work for the National Trust was "a rare opportunity".
Home Secretary Theresa May said Dame Helen had shown "outstanding leadership" at the department.
She is one of a number of permanent secretaries who have left the civil service this year.
The Department for Energy and Climate Change recently announced permanent secretary Moira Wallace would be leaving her post in October and senior civil servant Ian Watmore resigned as head of the Cabinet Office in May.
Earlier in the year Sir David Bell left his role leading the Department for Education to become vice-chancellor of the University of Reading.
'Big turnover'
Government adviser Lord Browne - who leads a team of non-executive directors from the City and industry brought in to sharpen up the way Whitehall is run - told Civil Service World there is currently "a big turnover" in permanent secretaries which is "problematic".
"Every time people change, there is an increase in risk for a period of time because there's not enough knowledge.
"People have to understand what they're doing and, during the process of getting up to full speed, there's always an increase in risk."
He said the government's non-executive directors wanted changes at the top of departments to be better planned.
Cabinet Office Minister Francis Maude admitted that "succession planning hasn't been as brilliant as it might have been," but told Civil Service World "there's been a very high degree of continuity".
Dame Helen, who will leave the department in September, said it had been a privilege to lead the Home Office and she felt "very torn" about moving on.
"But the work of the National Trust is something that is very close to my heart and this was a rare opportunity to lead a major voluntary organisation which I could not allow to pass by," she said.
'Wise counsel'
Dame Helen, 56, was previously permanent secretary at the Department for Environment, Food and Rural Affairs where she was involved in the controversy surrounding failures to deliver the single farm payment, which left many farmers without significant funds.
At the Home Office she was in charge when a row blew up over claims that UK border controls were relaxed without ministerial agreement, which led to the resignation of Brodie Clark, the head of the UK Border Force.
Ms May said she was grateful for Dame Helen's "support" and "wise counsel" during her time at the Home Office, adding that "she has made a great contribution to the civil service throughout her long and distinguished career".
Keith Vaz, Labour chairman of the Home Affairs Select Committee, warned of a lack of stability at the Home Office - with Brian Moore, interim head of the Border Force, also set to leave next month.
"I am very surprised that she is leaving this position after only 19 months," he said.
"I wish her well in her new position, but remain concerned that... the organisation will lack the stability required during this time of upheaval. I hope the next top civil servants to join the department will be able to stay for longer."