MoD 'more top-heavy despite cuts to top brass'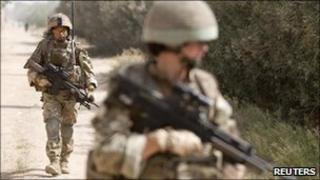 Proposed changes to senior positions within the military will leave the MoD even more "top-heavy" than it is now, it has been claimed.
Analysis by tech website The Register suggests cuts to senior personnel represent only 3% of senior ranks.
By contrast, some 20% of lower ranks will be cut.
But the Ministry of Defence says the planned axing of 26 posts is only a part of a longer term review of senior positions which has yet to conclude.
A spokesman also said it was "wrong and misleading" of the Register "to compare our announcement of the changes to the MOD's head office structure with the separate and ongoing work to reduce senior positions across the Armed Forces.
"Twenty-five per cent of senior civilian and military posts based at head office will be cut over the next two years but we are making reductions across the board.
"We are currently carrying out a review into senior officers to ensure the services are not top heavy and will make an announcement on this in due course."
UK defence statistics for 2011 show 340 military staff holding the rank of brigadier and 140 at the rank of major general and above.
There are a further 270 civilian personnel at senior civil service grade, making a total of 750 staff at the most senior levels.
A cut of 26 jobs, even if it represents a quarter of the senior staff in Whitehall, is a little over 3% of the total number.
Defence review
About 17,000 armed forces jobs are scheduled to be cut under the terms of the Strategic Defence and Security Review (SDSR), announced in 2010.
In total, the MoD wants to cut 29,000 military and 25,000 civilian posts by 2015, to plug a £38bn defence budget gap.
Army numbers are likely to fall from 101,000 to 82,000 by 2015.
Shadow defence secretary Jim Murphy said: "A botched review and cuts to vital support have made our forces feel under-valued and over-stretched. Cutting the Army by 20,000 while we have so many of our forces serving in Afghanistan is a real blow.
"Tough decisions are necessary but they must be taken with respect not recklessness."
The MoD said: "A new senior structure will be introduced from April 2013 to ensure the Ministry of Defence itself is less top heavy. It is expected to save the MoD around £3.8m a year."
Last year, leaked documents suggested the MoD planned to cut more than 1,000 senior posts by 2020.