Brian Binley calls David Cameron Lib Dems' chambermaid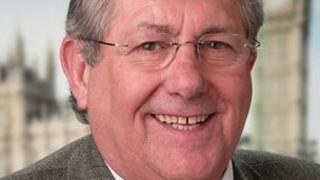 A Tory MP has accused the prime minister of being a "chambermaid" who allows the Lib Dems to "run ragged over the government".
In a strongly worded blog, Brian Binley said David Cameron had spent too long appeasing "the childish tit-for-tat approach" of his coalition partners.
And on issues such as gay marriage and House of Lords reform, he said the PM had failed to listen to his own party.
It follows criticism from a senior Tory MP of the PM's position on Heathrow.
On Tuesday, Tim Yeo, chairman of the Commons energy and climate change committee, questioned Mr Cameron's courage on taking a decision on a third runway at the airport, asking if he was "a man or a mouse".
The coalition has been under strain during the summer following a rift over House of Lords reform, which led Nick Clegg to accuse the Conservatives of breaking the "coalition contract".
'Self-indulgent lunacy'
Mr Binley wrote: "The country needs a full-time prime minister and not a chamber-maid for a marginal, irrelevant pressure group who have got him in a virtual arm-lock with a constant stream of threats to abandon ship."
He criticised Mr Cameron for agreeing to the "self-indulgent lunacy" of the Lib Dems and said he needed to show he was the "leading partner".
Mr Binley, who is treasurer of the influential group of Conservative backbenchers, the 1922 Committee, said Mr Cameron needed to change direction, with a widely expected reshuffle "an opportunity for the prime minister to re-define his coalition".
The Northampton South MP wrote: "What the country, the Conservative party and the captain of the ship needs now is not so much a reshuffle as a rethink.
"Rearranging the deckchairs on the Titanic will do nothing to alter the impression that the ship has lost its way.
"It's a change in direction which is needed and wanted."
Mr Binley called for Mr Cameron to embrace traditional Conservative principles and repair relations with his own MPs and the Tory grassroots.
"It's time to stop treating his backbenches and his party as an unnecessary inconvenience, and demonstrate a genuine willingness to engage in a grown-up conversation," he said.