Former Conservative MP and minister Rhodes Boyson dies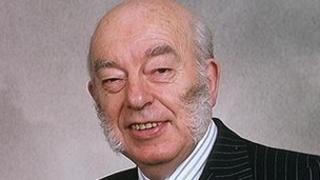 Ex-Conservative MP Sir Rhodes Boyson has died aged 87 after a long illness.
Sir Rhodes was a teacher and headmaster before serving in parliament as MP for Brent North from 1974 to 1997.
On the right of the party, he held a number of junior ministerial positions in the Thatcher government, including education and social security.
He was known for his trenchant social views, opposition to gay rights and defending the right of teachers to use corporal punishment in schools.
Before entering politics, Sir Rhodes served in the Navy and was a head teacher at schools in his native Lancashire as well as London.
He was an outspoken advocate of traditional teaching methods and discipline and co-wrote a series of pamphlets on education in the late 1970s criticising aspects of the comprehensive schools system.
After being elected an MP in 1974, he served as a junior minister in the department of education.
He subsequently held middle-ranking roles in Northern Ireland, social security and local government. He was knighted after leaving office in 1987 and did not serve as a minister under Sir John Major.
He lost his Brent North seat in 1997, when the Conservatives were swept from office.