BBC payments to MP Diane Abbott 'breached guidelines'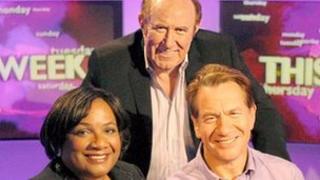 The BBC Trust has ruled that Labour MP Diane Abbott should not have been paid appearance fees by political discussion show This Week for the past two years.
The fees paid to Ms Abbott, a regular guest with ex-Tory MP Michael Portillo and presenter Andrew Neil, should have stopped when she became a frontbencher.
The BBC claimed rules banning payments to MPs representing their parties did not apply as This Week was not a "normal" political show.
But this was rejected by the Trust.
The Trust also ruled the MP's appearances had been "too frequent" since she became a shadow minister.
Complaint
In January Ulster Unionist peer Lord Laird complained that Ms Abbott had received five payments of £839 and one of £869 for appearances on This Week since she was promoted to the Labour front bench in 2010.
The BBC's editorial guidelines state that MPs should not be paid for appearances where they are "speaking as a member of their party or expressing political views".
The guidelines allow for the payment of a realistic "disturbance fee" to cover the time and inconvenience involved in appearing in a broadcast but Lord Laird argued that the payments to Ms Abbott went beyond this.
BBC director general Mark Thompson responded to the peer in February, passing on the views of This Week's producers.
They said that while the guidelines state that they should not normally pay MPs to appear, This Week was "not a traditional political programme".
They argued that, although Diane Abbott and Michael Portillo were asked to express political opinions, they also have a co-presenter role, interviewing other guests.
Ruling
Lord Laird complained again that the producers were being allowed "to flout the BBC's own editorial policy" expressing surprise at their assertion that This Week was "not a normal political programme".
The Trust's Editorial Standards Committee ruled that payments to Ms Abbott totalling £6,712 - recorded in the MPs' Register of Financial Interests - constituted a breach of the guidelines.
Ms Abbott, who is MP for Hackney North and Stoke Newington, was a regular presenter of This Week until 2010, when she ran for the Labour leadership in the contest won by Ed Miliband.
During the leadership campaign she was replaced on the programme by other Labour politicians including Caroline Flint and Charles Clarke.
The new Labour leader appointed her to the front bench as shadow public health minister.
At the time she tweeted: "No more 'This Week'. BBC management say I cannot be a shadow minister and be on the program (sic). Sad."
Her role was filled by other well-known Labour MPs including former home secretary Alan Johnson, but the BBC Trust recorded a total of eight subsequent appearances by Ms Abbott since she joined Ed Miliband's front bench team.
A spokeswoman for BBC News said that they "note the findings" of the Trust.