Lord Ashdown backs Nick Clegg after quit call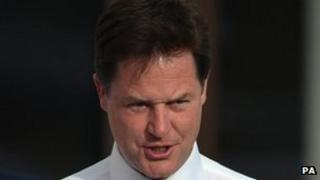 Former Lib Dem leader Lord Ashdown has strongly defended Nick Clegg's leadership, saying he had "succeeded" and attacks on him were unjustified.
Responding to calls for Mr Clegg to go from a Lib Dem peer, Lord Ashdown said there were always "party dissidents, minor or not" able to get a headline.
He told the Guardian Mr Clegg had taken the party into government and shown "grace under fire" in difficult times.
There would be repercussions if the party quit the coalition, he added.
On Thursday, Lib Dem former Treasury spokesman Lord Oakeshott became the first party figure to call publicly for Mr Clegg to consider his position.
Lord Oakeshott, who is a close ally of Business Secretary Vince Cable, said any organisation that had lost so many supporters in the last few years needed to rethink its "strategy and management".
'Back seat drivers'
In response, Lord Ashdown said Mr Clegg had succeeded where his predecessors had failed.
"In my view he has led our party in government, not flawlessly of course, but with a skill no one else in British politics could have matched and a grace under fire that should make us proud," he said.
"If you want to see how successful he has been, just listen to the complaints from the Tory right."
He did not mention Lord Oakeshott by name but said it was traditional for "party dissidents, minor or not, (to) suddenly find themselves welcome on every front page and in every news studio" when Parliament was in summer recess.
Mr Clegg has said he is used to criticism and would be getting on with his job ahead of Parliament's return on Monday and the Lib Dem conference next month.
"For as long as I've been in politics you'll always have back seat drivers who sit there making endless comments about people who actually lead and actually have to make decisions," he said.