Jonathan Dimbleby's best moments on Any Questions?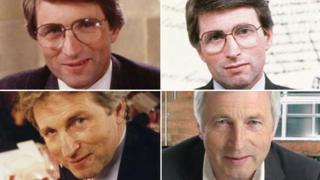 Jonathan Dimbleby first took the chair of BBC Radio 4's topical panel show Any Questions? in September 1987. Here he recalls some of the most memorable moments from those past 25 years.
FIRST-NIGHT NERVES
On 4 September 1987, Jonathan Dimbleby chaired his first live broadcast of Any Questions? with a panel that included Conservative MP Norman Tebbit and Labour's Roy Hattersley, who both return for the 25th anniversary recording.
Those first-night questions included such subjects as the trial of Mathias Rust, the young German amateur aviator who landed his light aircraft in then-communist Moscow's Red Square, gun control and the future of the SDP-Liberal Alliance.
Dimbleby recalls of his first appearance, "I obviously looked so nervous ahead of my first programme that as we went on stage, Roy patted me on the shoulder and said 'don't worry, it will be alright'."
"I knew that I would be very different from my predecessors. I had a reputation, fairly or unfairly, for being persistent to the point of aggression in the interviewing I had done before.
"That first night some of the audience complained they hadn't come for Jonathan Dimbleby's interruptions and I wondered if the BBC might remove me, but they didn't and here I am still."
"But for every listeners who might think I'm too intrusive, I like to think there's another who thinks I'm too genial."
ANSWER THE QUESTION
In the subsequent years, Dimbleby is not the only participant to have concerns about a performance.
Conservative MP Nadine Dorries got the wrong end of the stick on one show by appearing to talk about the Olympics when the question asked whether Bahrain should host Formula 1 motor racing, until she was gently corrected by the chair.
"It shows how the panellists first hear the questions at the same time as the audience," says Dimbleby.
It is a long tradition of the programme to keep the panel seperate from Dimbleby and the producer as they select questions ahead of the show.
MULTI-TASKING CAMERON
The use of technology has always played an important role in broadcasting the programme live.
David Cameron once took part in Any Questions? from a car park at Manchester airport on his mobile phone.
The exchange in 2005 between Dimbleby and the-then future leader of the Conservative party had Dimbleby saying to Cameron:
"Well the quality of the sound's okay so far, I can't speak for anything else. And I just want to check - this isn't an attempt on your behalf to show how versatile you are as a potential leader?"
Cameron replied, "No, not at all, I'm sitting in an executive car park at Manchester airport and I wish I was with you and I'll miss the interaction with the other panellists and the audience."
"It wasn't his fault to be fair, there were scheduling problems with the planes," says Dimbleby of the incident today.
"We thought the best idea would be if he did the programme from his car in the airport carpark. We managed to make it work. Thankfully."
MOTORWAY MADNESS
Mobile phone connections stirred further memories for Dimbleby.
"Another time when a panellist took part in the programme by mobile phone we were up in Cumbria and Norman Fowler, then Chairman of the Conservative Party, was held up in terrible traffic on the motorway.
"We patched him through to the programme via London and to my astonishment, the mobile lasted - it was in the early days of mobile phones.
"Jack Cunningham, Shadow Foreign Secretary at the time, was also on the panel.
"You could hear lorries and traffic thundering past in the background whenever Norman spoke, and he eventually said "I feel myself at something of a disadvantage here," and Jack, who never missed a chance to hit below the belt, said with rapier speed, 'Of course you are, you're destroying the country with your policies!'"
GOING INSIDE
Any Questions? comes from a different location every week, some stranger than others, recalls Dimbleby.
"We did an Any Questions? from a high security prison in East Anglia in 1991 where we had to go through three big security gates to get to the central area.
"I remember after the programme a group of young convicted murderers coming up to me.
"They demanded to know why Radio 4 had put test matches onto Long Wave - which meant they could no longer hear Any Questions? I was so relieved that that's what they were cross about!"
THE PROGRAMME THAT NEVER WAS
It was the perils of transporting the programme to a different location every week which saw Any Questions? cancelled for the first time in its history last year.
Three of the show's panellists were unable to make the live recording near Durham because of train cancellations from London.
Further attempts by the panellist to travel by road also proved fruitless.
Dimbleby had also suffered from train delays but had managed to make it to the venue on time.
CROWD-PLEASERS
On the fortieth anniversary of Any Questions? in October 1988 the programme broadcast live from the House of Commons, with an audience made up entirely of former panellists.
"Broadcaster and author Ned Sherrin was in the audience, and he asked the last question 'What is the question most guaranteed to win a round of applause from the Any Questions? audience?', recalls Dimbleby.
"And I just had time to go back to him after the panel had finished before the programme ended, to ask him 'what do you think?'
"He replied, 'I'll tell you what works - any answer that ends in the phrase 'I am British and proud of it', at which point the entire hall erupted into applause!"
WHEN BORIS MET BOB
In March 2011, ahead of an appearance on Any Questions?, people were shocked to discover after three years in power, London Mayor Boris Johnson had yet to meet transport union boss Bob Crow to discuss London's transport issues face to face.
"I remember suggesting on air that they meet for a drink after the programme, which they did, and it was the first time they had met since Boris had become mayor, during the dispute over strikes on the London Underground," says Dimbleby.
CALLS OF NATURE
The Dimbleby years have seen a number of interruptions to the usual smooth running.
"I remember Conservative politician Enoch Powell in Liverpool," says Dimbleby.
"There was a protest in the hall before the programme on the back of his views on race, and I remember that one protester went up to an Asian policeman and pulled his moustache, saying Uncle Tom.
"And the policeman simply said 'Look brother, if you do that again, I will have to arrest you.'
"If he had arrested him at that point, there would have been utter chaos and our programme would not have gone ahead. It was a real example to me of how effective a calm and clear head can be.
"I also recall another encounter with Enoch where just as we were going up onto the platform to take our seats, Antonia Fraser said 'Oh I think I need a pee.'
"And Enoch said, in that deadpan voice he had, 'Antonia, there is no time and I think you'll find a full bladder helps remarkably to focus the mind'."