Bus services need better partnerships, MPs say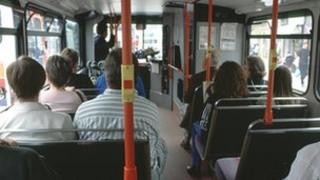 Partnership not competition is the best answer to improving local bus services and reducing passenger dissatisfaction, a group of MPs have argued.
The Commons transport committee said quality of service was too variable and bus firms should show more leadership.
In a report, it said it was "not convinced" by the case for head-to-head competition and partnerships between councils and operators may work better.
Ministers said services were already "very good" in many areas.
More than five billion journeys are made by bus in Britain every year, three times as many as by rail.
Although bus use in London has steadily risen for more than a decade, the number of passengers using buses in the rest of England has fallen in each of the past three years.
Last year the Competition Commission blamed a lack of competition on local routes for poor services in some areas and higher fares for passengers and called for new entrants into the market.
Publishing its own review of competition in the market, the cross-party committee said the "big five" operators - Arriva, FirstGroup, Go-Ahead, National Express and Stagecoach - who control nearly 70% of the market needed to "take more responsibility".
The MPs said they should "lead the way" in introducing smartcards that could be used on different routes and increase passenger information.
"While some services are good, too often passengers are dissatisfied with the reliability of the service, the level of fares and the need to buy another ticket if the trip involves two bus companies," Louise Ellman, the Labour MP who chairs the committee said.
Transport Minister Norman Baker said ministers would study the MP's recommendations carefully.
"I agree with their conclusion that improving partnerships between commercial bus companies and local councils must be the focus of improving bus services for passengers," he said.
"Large parts of England benefit from very good bus services. In the most recent survey by Passenger Focus, an average of 85% of bus users said they were satisfied with their service."
But Labour said deregulation of bus services outside London, which began in the mid-1980s, had proved to be a "dogmatic experiment that has failed".
Shadow transport secretary Maria Eagle said cuts to services were hitting those most reliant on bus transport, such as older people, those on low incomes and with health issues.